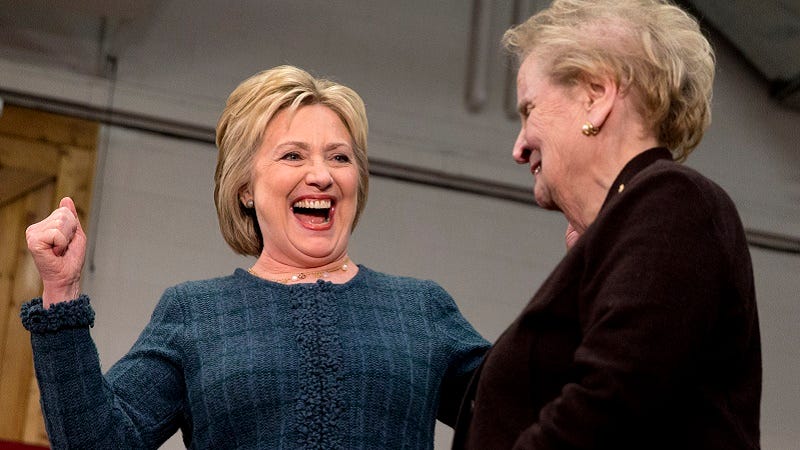 Yesterday, former secretary of state Madeleine Albright made waves when she took the Taylor Swift approach to introducing Hillary Clinton (or the Swift via Katie Couric via Albright approach. Whatever). "There's a special place in hell for women who don't help each other," Albright told a crowd in New Hampshire.
The precarious ceasefire that momentarily halted the fighting between Israeli and Palestinian forces (that is well on its way to becoming the deadliest Israeli conflict in nearly a decade), dissolved. Dutch, Australian, and Malaysian authorities have decided not to send an armed mission to secure the still apparently…
Former Secretary of State and 75-year-old woman Madeleine Albright impressed a Kennedy Center audience — an audience that included Helen Mirren and Aretha Franklin — this past Sunday when she made a surprise appearance behind the drums during the Thelonious Monk International Jazz Drums Competition and Gala Concert.
Former Secretary of State and Brand New Suits Madeleine Albright doesn't get the whole "vote for Mitt Romney" thing, and probably needs one of his many hip, young college-age supporters (no doubt tucking and re-tucking their Oxford shirts into their rain-gutter-cleaning dad jeans in anticipation of casting their votes…
On March 12, 1912, eighteen girls from Savannah, Georgia gathered for what would be the first meeting of Girl Scouts. One hundred years later, the small organization founded by Juliette Low has included more than 50 million girls and women, sold hundreds of millions of boxes of cookies, and given us some incredibly…
"It's irritating when what women are wearing becomes the story. Nobody ever says a man is wearing a gray suit." -former U.S. Secretary of State Madeleine Albright. [Style.com]
Madeleine Albright is celebrated for many things, but fashion is not usually one of them. Albright, however, has been a trailblazer in one particular niche: Pins. Her new book, Read My Pins offers a detailed look at fashionable diplomacy.