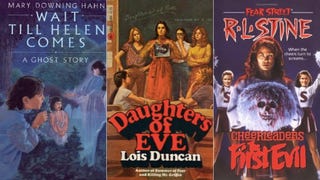 You all voted, and now here are the selections for our tween terror throwback book club!
Admit it: You had at least one encounter with a tween terror classic that left you scared shitless, cowering under the covers. Or at least very, very jumpy in the dark. This Halloween, Jezebel will be celebrating our adolescent nightmares with a special Spooky Scary YA Book Club. Help us pick what to read!
I first saw "I Know What You Did Last Summer" at the $1.75 Tanforan movie theater in San Bruno, California. It was the day after a holiday and I yelped so loudly at the end (you know what I'm talking about), that my friend Jukey made fun of me on the ride home. Now, we'll all be able to relive that magic again.
If you were a fan of easy-to-read horror and suspense during the halcyon days of your middle school youth, you will be devastated to learn that "Head Mary Sue" Stephenie Meyer has decided to go where no one invited her: Down the dark hall of producing films based on the work of Lois Duncan. God help us all.
Welcome to 'Fine Lines', the feature in which we give a wrinkled look at the YA books we loved as youth. Today, Lizzie Skurnick rereads Down A Dark Hall, Lois Duncan's thriller about a residence where artists can really colonize.
Welcome to 'Fine Lines', the Friday feature in which we give a sentimental, sometimes-critical, far more wizened look at the children's and YA books we loved in our youth. This week, writer / reviewer / blogger Lizzie Skurnick reads 'Stranger With My Face', Lois Duncan's 1981 novel in which Laurie Stratton gets every…
Welcome to 'Fine Lines', the Friday feature in which we give a sentimental, sometimes-critical, far more wrinkled look at the children's and YA books we loved in our youth. This week, writer / reviewer / blogger Lizzie Skurnick rereads 'A Gift Of Magic, Lois Duncan's 1971 story of 11-year-old Nancy Barrett, whose…
Anyone remember Lois Duncan's kids-who-attack-their-teacher YA book Killing Mr. Griffin? Well, imagine the plot of that book come to life with a bunch of 8-year-olds. News sites are buzzing this morning about a posse of (possibly) learning-disabled punks in a 3rd-grade class who, according to the AP, "plotted to…