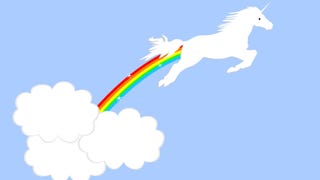 If you love unicorns and questionable labor practices, then you'll be happy to know that Lisa Frank, Inc. has a position open in its art department.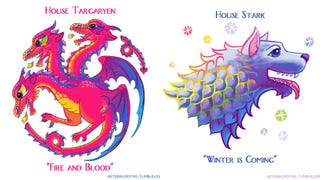 Tumblr user Arterial Motive brings us a spin-off we can definitely get behind, a pairing of two brands the real Lisa Frank might want to consider. You can buy stickers, t-shirts, cards, etc. of the design for House Targaryen.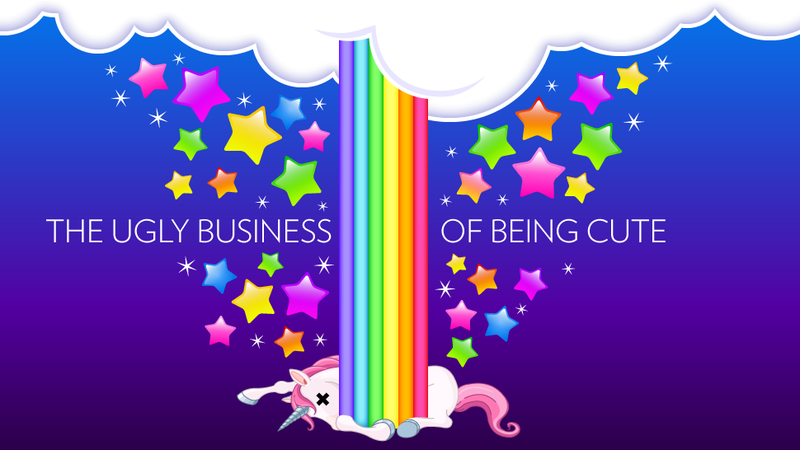 To her fans, Lisa Frank is almost as mythical a figure as her beloved unicorn. For women in their twenties, thirties, and forties, Frank's name alone conjures up a specter of koala bears clinging to rainbow-flavored ice-cream cones, neon tiger cubs frolicking with surfing penguins, and, of course, majestic unicorns…
Props to the Lisa Frank School, which has mashed up the work of your childhood idol with those people whose books you were were supposed to read in college. Their motto: "The last capitalist we hang shall be the one who sold us the stickers."
If you were a girl in the 80s or 90s, odds are you carried some fresh-ass Lisa Frank insanity with pride. Whether it was a unicorn shitting sparkles on your binder or a cracked-out koala bear clinging to a rainbow tree for dear life on your jumbo pencil, this magical shit grabbed our imaginations and our parents'…
This commercial was taped circa 1993, although 9-year-old Mila Kunis's enthusiasm is reminiscent of an earlier, more coked-up era: the Eighties. Mila will never forget the day she got stuck on Lisa Frank, you guys. A simpler time, before Jackie met Kelso. Awesome! Bee tee dubs, Lisa Frank is back, so all of your…
Steel your inner '90s middle-school-aged girl who likes rainbows and unicorns and cuddly dolphins and pink: Lisa Frank has a clothing line. And yes, plenty of styles are available in adult sizes. [Racked]
would like you to avoid the walk of shame this holiday season. Not by going out and getting drunk and…
Pollock and Basquiat got their biopics — now it's time for another artistic visionary to lend her life to the silver screen. Brought to you by the Upright Citizens Brigade and Diamonds Wow, the story of Lisa Frank's misunderstood genius, meteoric rise, and heroic stand against the philistines of a school supplies…
When you say the name "Lisa Frank," women of a certain age will immediately begin discussing unicorns or rainbows or dolphins or horses. But as Andy Wright of SF Weekly points out, today's Lisa Frank is sexy.
In a world where ponies run free on rainbows, spreading joy and sunshine wherever they go, there's only one creature who dares to rain on the pretty pony parade: Unicorn, Destroyer Of Ponies. It's time to get magically vicious! [BoingBoing]
Take a walk down memory lane with this gallery of Lisa Frank images. And yes, bring the shades; those unicorns aren't messing around with your retinas. [ColourLovers]
Three words: Lisa. Frank. Clothes. Alas, these items are from a decades-old ad and not currently available. (Click picture to see the ad.) [Vintage Ads]