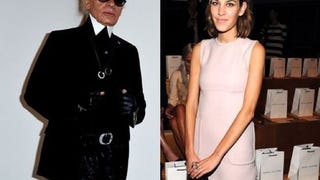 Alexa Chung says His Kaiserness Mr. Karl, The Gloved One "is actually really easy to talk to because he knows everything. So if you're stuck you just say, 'Um, tell me about Medieval times.'" [The Cut]
Miranda Kerr nabbed the September Vogue Italia cover, which is her first. Shot by Steven Meisel, the cover and its accompanying editorial is in 3D. Kerr's Yorkie puppy, Frankie, shares the honors. Who can argue with a puppy? [Models.com]
Apparently, the last thing Lindsay Lohan did before she went to jail was wrangle a commitment out of Blackbook to publish her ramblings about fashion, personal style, and that feeling you get when you're cutting up a Gucci dress. Herewith:
Crystal Renn is in an ad for Chanel's downtown New York store, which is reopening this fall. She poses alongside Lagerfeld boytoy Baptiste Giabiconi, whom she calls "the most gorgeous man I have ever seen, hands down."
American Apparel's stock is tumbling this morning, following news that the company's dodgy accounting has caught the eye of the U.S. Attorney's office. It's currently trading at 0.83. [AMEX:APP]
Dov says: "The capital structure issues will work themselves out." [WWD]
Before testifying at Charles Taylor's trial, Naomi Campbell has demanded accommodations normally extended to victims of atrocities. She wants the media to not film or photograph her, and she wants a lawyer to speak for her on the stand.
Here is Marc Jacobs and his new men's perfume. It's like Tom Ford and Juergen Teller had a meeting, and this is what they came up with. "We tried it with clothes, but it didn't work," claims Jacobs. [WWD]
Like everyone, Anna Wintour heard that rumor Nina Ricci was firing Olivier Theyskens. Her reaction? "How could you do this to me!" It's nice to know her concern rests with the possibly unemployed guy. [Blackbook]