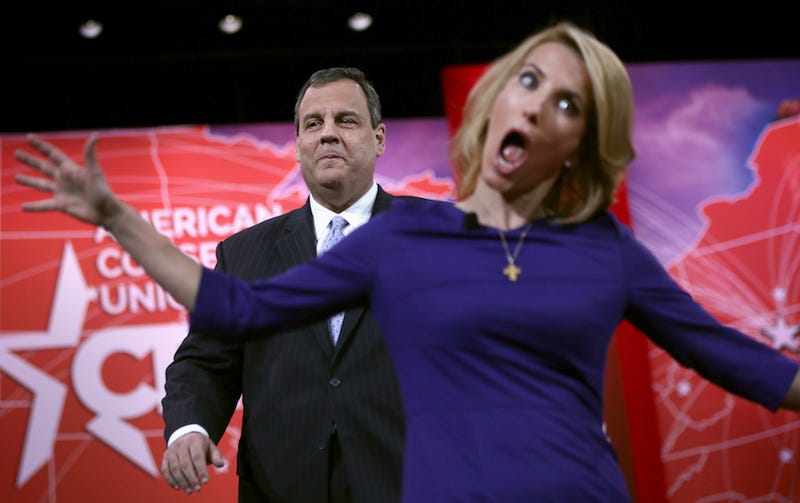 This morning was not a good morning for Laura Ingraham, the conservative commentator who hosts a syndicated radio show that is broadcast across the country. Today, Ingraham's show had some technical difficulties, which led her to curse out her executive producer Drew Charmichael live on-air when she thought her mic…
Very mean conservative radio host and wearer of prominently displayed cross necklaces Laura Ingraham announced today that she's starting her very own lifestyle website for conservatives and independents. It's going to be called LifeZette, which is a terrible name for a website. And I work at a website named after a…
Jezebel managing editor Erin Gloria Ryan and I spent most of last week at the Conservative Political Action Conference, in part because we thought it would be hilarious fun (it was). I also went because I wanted to get a better sense of the right's priorities for women. It's that deluded instinct that got me standing…
Since the harrowing failure of Oklahoma's attempt to execute a death row inmate with a new untested drug cocktail last week, the death row debate has been rejuvenated. And you know what that means: more completely unsolicited parallels between death row and abortion!
During an appearance on Laura Ingraham's radio show last week, former Vice President Dick Cheney said he enjoys being compared to Darth Vader, but that isn't the only controversial statement in the clip. Ingraham claims that after Vader, Chewie is the second most interesting character in the series. Perhaps her…
The Politico: "Ingraham announced that the speaker did everything but 'sell her own body' to win the 220-to-215 vote." The madness continues on Ingraham's website where she asks if Nancy Pelosi and Stephen Tyler were seperated at birth. Classy. [Politico]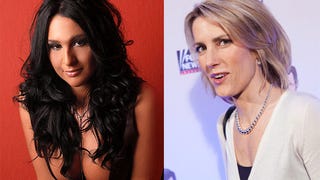 Yesterday, conservative talk show host Laura Ingraham tried hard to get Natalie Dylan to feel bad about auctioning her virginity. Ms. Dylan made Ms. Ingraham look dumb — and made us feel a little dirty.
Remember Oliver Clark? He asked a question at Tuesday's debate on the economy and John McCain told him he "probably" hadn't ever heard of Fannie Mae or Freddie Mac. Well, it turns out he has a B.A. in PoliSci, a Masters in Legal Studies, and is in the midst of a Masters in Public Administration. So, he'd heard of…
A couple days ago, conservative radio host Laura Ingraham was sitting in for Bill O'Reilly on Fox News and interviewed Annie Oakley, founder and director of the Sex Worker's Art Show. (The same Sex Worker's Art Show that got William & Mary's president fired.) Ingraham showed a complete lack of professionalism — or…

Conservative talk radio host Laura Ingraham filled in the guest co-host spot on The View today. If you aren't familiar with her, she's sorta like Ann Coulter, except boring and not nearly as much fun (read: gay men would never find her funny in a campy way). She was promoting her new book, Power to the People, and…