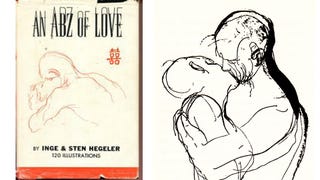 When Vonnegut wasn't busy writing term papers for Rodney Dangerfield, he was penning letters to his wife Jane, encouraging her curiosity with all things sexual. He writes, "If you are as interested in sex as you say you are, there is a really lovely book about it in my study - on a top shelf. It's red, and it's called…
I Write Like tells you which famous writer's style your words resemble. Of course we tried it on ourselves — and a few other luminaries.
A dog named Tillie who "creates art" will go down in history as one of the least cooperative talk show guests of all time. Tillie is actually a performance artist intent on making a mockery of both art and television.
In today's Washington Post, book critic Jonathan Yardley extols the virtues of Laura Ingalls Wilder and the Little House books as part of "An occasional series in which The Post's book critic reconsiders notable and/or neglected books from the past." Though I was never personally a fan of all those Prairie books…