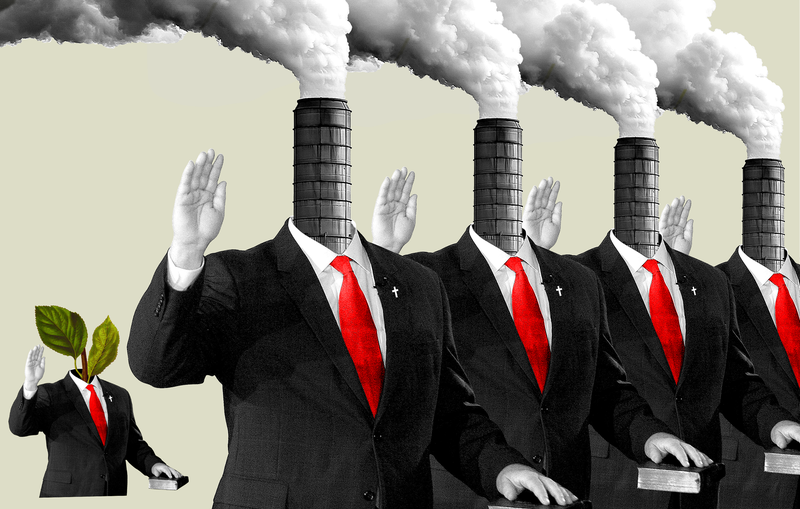 In 2005, at its annual meeting in Washington, D.C., the National Association of Evangelicals was on the verge of doing something novel: affirming science. Specifically, the 30-million-member group, which represents 51 Christian denominations, was debating how to advance a new platform called "For the Health of a Nation
If you thought that climate change-denying fossil fuel industry shills wouldn't be interested in participating in Earth Day, you would be very wrong—oil, after all, technically does come from the earth. ThinkProgress reports that the Koch-funded Independence Institute is promoting an "Earth Day Fossil Fuels Art…
Donald Trump's transition team has asked the Energy Department for a list of names of all agency employees and contractors who worked on the Obama administration's climate change policy. A 74-point questionnaire, first reported on by Bloomberg and obtained by Politico, is being circulated by the DOE.

Charles and David Koch, whose combination of right-wing extremism and endless income makes them two of America's Most Notorious Thugs, are the subjects of a new retrospective that highlights how their construction and pipelines before Katrina, and their aggressive lobbying after it, helped worsen the damage to the…
Charles and David Koch held a retreat at a California resort this weekend, where Republican candidates gathered around a pool of Koch money, attached vacuum cleaner extensions to their snouts, and gazed pleadingly at them. All conditions seemed ripe for—could it be—yes, praise Jesus, we've got ourselves another …
The Koch brothers—the duo of darth vaders whose shady corporation, Koch Industries, is so IRL nefarious their biography could be a plotline from a Nicholas Cage movie—have been using their endless coffers of money to gobble up ad time on The Daily Show. Yes, The Daily Show. With Jon Stewart.
Some of you might have thought that President Obama has been campaigning by trying to tell people what he wants to do with this country, but if you believe what Ann Romney has to say about his strategy, it turns out he's actually secretly been trying to convince us to not vote for Mitt Romney. Bananas!
David and Charles Koch are billionaire brothers behind Americans for Prosperity and the Tea Party Movement. But they're not the only politically active Kochs in the throwing money at politicians in 2012. There is a third Koch, a Bill Koch, who has given seven figures to Mitt Romney's SuperPAC, and he's got a marital…

Rachel Maddow has had an "aha" moment which is sort of hilarious but is also sort of scary. Basically she's decided that Herman Cain is a joke—not in the sense that we all know he's a joke because he has very few qualifications to be president and also has overly simplistic policy ideas and does incredibly stupid…