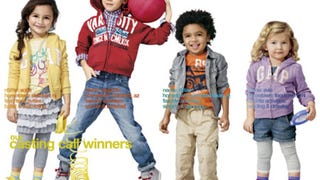 Four children have emerged victorious from Gap's Casting Call contest: Sofia Jaworovich and Keyghan Burns for GapKids, Evie Sowers and Dylan Bandale for babyGap. They beat out one million other kids to star in Gap's relentlessly cheerful ads.
Ellen Moore is a working mother. With a special needs child. As she says, "People tell me I'm good at it; I'm never quite as sure." And her advice, while not new, is amazing.
According to a new study of 13,446 youngsters, only kids do suffer socially — at first. By their teens, everyone's on a level playing field. "Whatever benefits there are in having a sibling are mediated; there's a catch-up."
Inspired in part by Rekha Kalindi, increasing numbers of young Indian girls are refusing to submit to child marriage. As an article in today's Los Angeles Times makes clear, no small feat:
We want certain things from an Octomom story: chaos, madness, the squirm of discomfort, and plenty of cute kids. A New York Times Magazine profile brings us all this, and more:
If you caught yesterday's Secret Lives of Women, you'll know it didn't contain that many insights into the Quiverfull lifestyle - possibly because it was titled "Born to Breed?" The most interesting by far? The woman who left the movement:
Today on Oprah, the host interviewed a a 7-year-old schizophrenic girl who wanted absolutely nothing to do with O. You can tell, in the clip, that Oprah isn't used to this kind of rejection at all.
Do preschoolers need therapy? Are babies racist? Two stories this week challenge the notion that kids live in an innocent world, free of the problems and stereotypes that complicate adult life.
Today, Jack Black landed in Gabbaland, via talking motorbike, and made friends with the gang. He got to wear DJ Lance's outfit, and he's a really good dancer. More dancing after the jump.