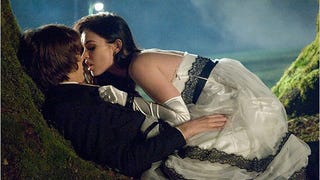 Sunday's New York Times took a look at the relationship between women and horror films, with Jennifer's Body about to hit theaters.
Seriously, it's the entire plot condensed into a minute and 32 seconds. But you'll want to watch anyway, to hear Megan Fox say, "They're agents of Satan with really awesome haircuts." [ONTD]
The New York Times' Michael Cieply scanned the big studio schedules and reports that "Hollywood directors are pretty much what they have always been." White. And male. Women & Hollywood's Melissa Silverstein says: "No shit, Sherlock."
The trailer for Diablo Cody's dark comedy horror movie, Jennifer's Body (which hits theaters September 18) was just released. Directed by Karyn Kusama (Girlfight), it stars Megan Fox as a demonic cheerleader who feeds off the boys in her town.