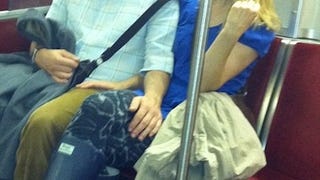 Here's what you're missing if you don't regularly ride the subway in New York: Adorable scenes of famous folks sometimes "making out and hugging" while you hurdle to your destination. But this is going international! Here we have Rachel McAdams and Michael Sheen (who is quite obviously in disguise) on the subway in…
New Yorkers, here's what you missed by not taking the Q train last night: JAKE GYLLENHAAL. Notice Jake doesn't hold onto the subway rail, meaning he probably would've stumbled into your loving arms, and ever so many ice cream dates.
"For the first time in my life, I'm proud of this First Lady," snarks a Politico commenter. Why? Michelle Obama has reworn her much-scrutinized outfits. Sometimes as many as four times!
Jenna Bush is the subject of a really long slobbering Texas Monthly cover story next month that I read in the latest development in my months-long struggle with the notion that she could actually be a decent person who feels really bad about her dad fucking up the country/various others/etc. While the author is not…
According to this blog, for an upcoming episode Oprah invited Michael Moore come talk about Sicko, his new documentary on the US health care system, a movie we assume has something to do with how the health care industry has become more like fashion, with companies creating new diseases and ailments (acid reflux) so…