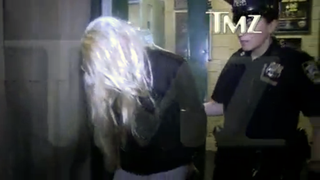 During her arrest in Midtown last night, Amanda Bynes was taken to a psychiatric hospital for evaluation; it turns out this was set in motion by "friend and Hollywood publicist" Jonathan Jaxson, who told the police that he had proof that Bynes was suicidal.
The price of Jennifer Aniston loneliness futures skyrocketed today on the news that the Wonderbread of acting was house shopping with beau Justin Theroux. If this were any other human, one would assume that this is a good sign for her, being in love and getting serious, but since it's Jen, and she's Perpetually Jilted…
Michael Lohan says Jon Gosselin is trying to get out of his TLC contract to appear on his new show Divorced Dads Club and hinted that a few famous former sports stars/single dads may be joining them.
Sarah Silverman says that though she and Jimmy Kimmel "have it good," she's not looking to get hitched. "I don't want the government involved in our love," Silverman told People. She also added, "I might adopt, but we're going to wait. If you're going to have kids, you need to have time to give them undivided…