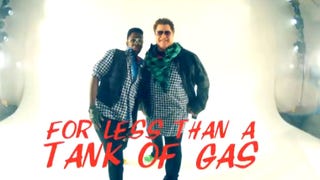 Yes, H&M offers really cheap clothes, but, as this video demonstrates, the experience of shopping at an H&M is one of wading through piles of clothes on the floor, feeling your blood vessels constrict under pressure from tiny jeans, and watching your new purchase disintegrate in the washing machine.
Last night at the 16th Annual Hollywood Film Awards Gala presented by The Los Angeles Times — held at The Beverly Hilton Hotel — most of the stars looked great. Glam hair, dreamy dresses. Although a few folks made some bad decisions. Hey, it's not a celebrity red carpet without some ugly ensembles! Let's take a look,…
The systematic destruction of Kevin McAllister rolls cruelly on: Everyone knows that the second most irrefutable fact of the world, immediately below "water is wet," is that there is almost nothing worse than receiving a concerned phone call from an ex, as well-intentioned as they may be. Raise to the tenth power when…
Rich people do some crazy shit, and never has that been more true than in the case of Houston millionaire John Goodman. The 48-year-old heir to an air-conditioning fortune recently legally adopted his 42-year-old girlfriend, Heather Laruso Hutchins. They've been together since 2009, and he decided to make her his…
Whitney Houston is in a Paris hospital suffering from nose and throat problems.
Roseanne Barr's eponymous sitcom
debuted 20 years ago
and got the cast of to relay their favorite memories. What's striking about their commentary is that even by today's far racier standards, is still revolutionary. Think of it this way: it was 1992 when Dan Quayle chastised Murphy Brown for having a child out of…
[Malibu, April 15. Image via x17]
Marina Batkis of Mutts And Moms, the organization that took back the dog Ellen gave to her hairdresser's kids, says she has received numerous death threats. But she's not backing down. "If Ellen wants to place dogs and decide what's a good home, then she should start her own rescue group," she says. "But I'm the one…