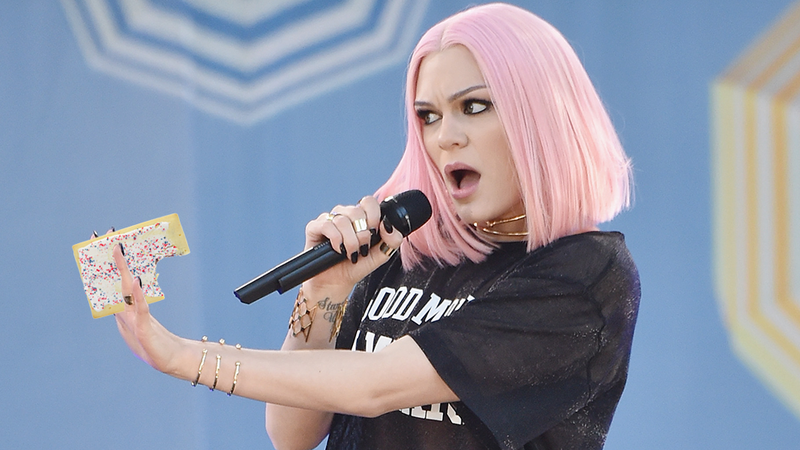 Jessie J released a new song today. It's not a single. It's not a b-side from her last album. It's not even an original song for a movie soundtrack. No, "Sorry To Interrupt" was recorded for Pop-Tarts®, the brand of toaster pastries. Though the song isn't technically about Pop-Tarts®, it could easily be interpreted…
Ariana Grande and Jessie J have powerful enough vocals that I'm sure they wouldn't completely butcher a remake of Brandy and Monica's famous duet "The Boy Is Mine." Still: no thanks.
Pegged to their VMA performance Sunday night, Jessie J, Ariana Grande and Nicki Minaj have released their video for "Bang Bang," which really reminds me of Christina Aguilera's "Can't Hold Us Down" featuring Lil' Kim, both visually and in subject matter. But the real question is how they settled who'd get to post…
Yesterday in London, the Brit Awards were presented at the O2 Arena. Critics found the show bland and boring, but there were a few exciting ensembles on the red carpet.
After being rushed to the hospital Tuesday, and then again last night, über-enceinte Reese Witherspoon is still pregnant, but totally fine. However, Tuesday's visit involved "complications" with the pregnancy, according to the source, making Witherspoon and husband Jim Toth very nervous. The baby is due in September,…
Katy Perry — now dating Ghostbuster Dan Florence + The Machine guitarist Robert Aykroyd — is taking a break from showbiz after her doc Katy Perry: Part Of Me is released, in order to let her heart and/or cupcake boobs heal after Aldous Snow poured Malibu rum all over them and devoured them en flambé. If she spends…
If you'd only read about Brit singer Jessie J previous to seeing her on Saturday Night Live over the weekend, you may have been shocked to discover that she could, you know, sing. The headlines regarding the artist (in the U.S., at least) have been about her writing songs for Britney, wearing skimpy outfits and …
As the name implies, the Brit Awards attract some of the biggest boldfaces in the UK arts. But that doesn't mean that Rihanna and Bieber weren't there, too! And yes, the duds were eminently gawk-worthy.
Even though it's all downhill from here (in the bad, Sisyphus way, not the easy-coasting way) let's start with…