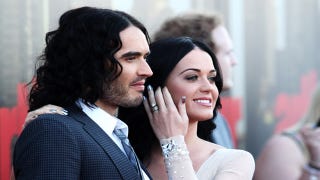 And I don't just mean the Perry-Brands' multiple red-carpet PDAs! My love, at the Euro Arthur premiere, was all about Dame Helen.
We get it, kids: you're in love. Seriously, they're macking in, like 4/5 of the pix from this event. But — from what I can tell — this is a pretty, soft take on the whole blush angle.
Plenty of the luminaries on CoverGirl 50th-anniversary red carpet were lovely. Then there was Drew Barrymore's neon sack...
Morning, friends! Welcome to another glorious week and another baffling edition of The Good, the Bad, & the Ugly, where we answer the question: just how bad were the clothes at Hollywood Life's 6th Annual Hollywood Style Awards?
The 7th annual Teen Vogue Young Hollywood party, held in L.A. on Friday, saw stars like Kelly Osbourne, Ashley Tisdale and 90210's AnnaLynn McCord sporting ensembles good, bad, and, yes, incredibly ugly.