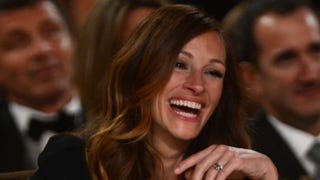 Julia Roberts' half-sister Nancy Motes, who weighed 300 pounds before undergoing gastric bypass surgery in 2010, says that her relationship with Julia has been testy since Motes was in her teens and Roberts broke into stardom after Pretty Woman. Apparently Roberts would not let Motes forget that she was a Fat Woman.
All those Antique Roadshow marathons seem to have poured some glitter gas back into Robert Pattinson's PR sparkle tank and gotten him through two major New York appearances. First, Rob visited Jon Stewart, who played a spirited round of Very Concerned Camp Counselor on the Daily Show. ("What are we doing here? Are you…
Here's the trailer for Why Stop Now, the upcoming movie chronicling Eisenberg as a piano prodigy attempting to get his mother (Melissa Leo) into rehab the same day as his audition for a prestigious music institute. Things don't go as planned, however, when the pair get involved with the mother's drug dealer (played…

Almost nothing is more fun, on a cold winter's night, than gathering around the fire with your friends and playing a game of Mad Libs. And Jimmy Fallon did it right: he busted out 'Twas the Night Before Christmas and asked a few of his recent guests—Patton Oswalt, Jack McBrayer, T.I., Jesse Eisenberg, Zac Efron, and…
After suffering for years in a house full of boys and soccer balls and LA Galaxy clothing, Victoria Beckham will finally have the Spice Baby of her dreams.
The Social Network premiered at the New York Film Festival last night, and the celebrities in attendance were (mostly) dressed to impress, sticking to sleek suits and simple dresses.