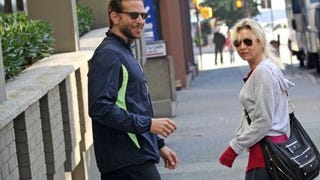 Texas gal Renée Zellweger will spend the holidays in Philadelphia with Bradley Cooper's parents. Sounds like the plot of a romcom. But it's real! [NY Daily News]
Is Nicole Kidman thinking of
quitting showbiz?
The star says, "In terms of my future as an actor and stuff, I don't know. I mean, I'm in a place in my life where I've had some great opportunities – but I may just choose to have some more children." Maybe she just wants to be able to move her eyebrows again! • Aw!…
Last night in New York, French Vogue editor-in-chief Carine Roitfeld was honored alongside Julian Schnabel and Bobby Shriver by amFAR for "their vital and distinctive contributions to the global struggle against AIDS." It being the eve of New York Fashion Week, we totally expected the attendees at the gala to make an…
Owen Wilson attempted suicide because he "had been depressed for several months," reports Extra. [People]

Samuel L. Jackson visited Owen Wilson in the hospital. For some reason this makes us feel a lot better. Seriously. Somehow, Sam just soothes the soul. [TMZ]

Madonna's adoption of David Banda is moving forward: a…
*Inspired by Shirley MacLaine's assertion that the best parts for actresses fall into one of the above categories.
Strangely-underutilized actress and newlywed Jennifer Esposito, 34, (, ) has signed on to star alongside Val Kilmer in the indie film , in which she'll play "the hardworking single mother of an…