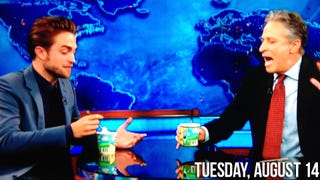 All those Antique Roadshow marathons seem to have poured some glitter gas back into Robert Pattinson's PR sparkle tank and gotten him through two major New York appearances. First, Rob visited Jon Stewart, who played a spirited round of Very Concerned Camp Counselor on the Daily Show. ("What are we doing here? Are you…
Britney and her boyfriend/agent Jason Trawick went to a McDonald's drive through on Valentine's Day, not that there's anything wrong with that.
Melanie Griffith's rep confirmed that she has checked into a rehab facility saying, "This is part of a routine plan that was designed between her and her doctors years ago." But sources say husband Antonio Banderas demanded she get sober.
Kelly Osbourne checked into Oregon's Hazelden Alcohol and Drug rehabilitation center on Wednesday. Her mom, Sharon Osbourne, says:
Aww, lookit: BritBrit on the cover of Rolling Stone, looking healthy and happy. She says: "I feel like an old person now. I do! I go to bed at, like, 9:30 every night, and I don't go out or anything." Oh! But Britney did go on a date recently, and took her assistant and a manager's friend with her. "Right when we got…
Miley Cyrus's YouTube account was hacked yesterday and a video was posted, claiming that the star is dead. The description reads: "Miley died this morning after being hit by a drunk driver. She always told us if anything ever happened to her then tell her loyal fans first before the public. R.I.P Miley, we'll never…
Sean Penn: Lousy gay lover! Diego Luna was asked about kissing Sean for Milk and said, "It was...dry." He added: "I guess he was thinking about Franco." But costar James Franco claims kissing Sean was "fine." Not hot, steamy, fun. Fine. [E!]
Britney's youngest son, Jayden, has been released from the hospital. He was…