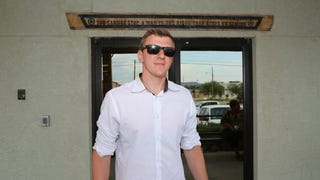 A former employee for conservative shit-raker and misleading gotcha video maker James O'Keefe told the New York Post today that O'Keefe hired an agent to go undercover at protest meetings and talk about wanting to "kill cops."
Fake pimp and would-be sex boater James O'Keefe is profiled in the upcoming New York Times magazine. And one anecdote, in which O'Keefe and friends cook up a plan to expose the government's evil plan to prevent black people from marrying each other, is indicative of everything that's wrong with him. (Apart from, you…
A week after a CNN reporter blew the whistle on his "sex boat and Viagra" scam, pseudo-pimp James O'Keefe is pushing back, saying, "Nothing in the document was implemented" and that Planned Parenthood and ACORN are the real villains here.
James O'Keefe, the ACORN-stinging fake pimp, had a novel idea on how to derail CNN's Abbie Boudreau documentary about young right-wing activists like him: seduce her and make a blackmail-ready sex tape. Wait til you hear about his planned moves.
Yesterday, ACORN filed suit against James O'Keefe and Hannah Giles - the pair who posed as pimp and prostitute in a video that damaged the organization's reputation - as well as Andrew Breitbart, on whose website the videos were shown.