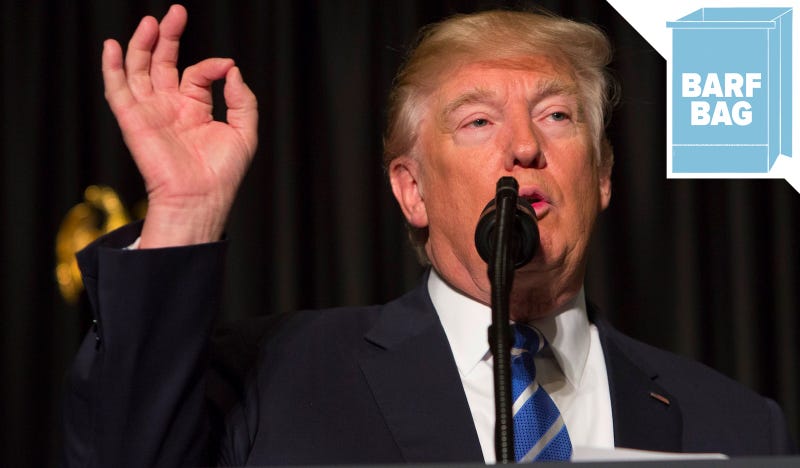 Welcome to Barf Bag, a new daily politics roundup to help you sort through the chaotic Trumpian news cycle.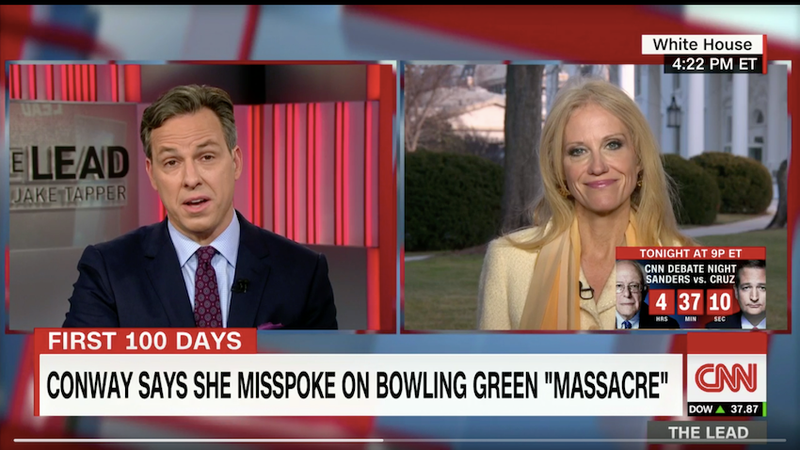 Though every day in 2017 feels like a week, it has only been four days since Kellyanne Conway, Donald Trump's flaxen-haired special adviser, showed her ass on national television by fabricating the "Bowling Green Massacre," an event that did not happen, in order to justify the president's Muslim ban. And now, she…
Rudy Giuliani, head advisor to Donald Trump and taxidermic gopher, is fretting over the slim but mighty corpse voter contingency. On Sunday, he told CNN's Jake Tapper that the election could tip in Hillary Clinton's favor due to corrupt voting practices—keeping dead people registered, for instance—in the inner cities.
Former Arizona Governor Jan Brewer, who is supporting Donald Trump, who is good buddies with human rights nightmare Sheriff Joe Arpaio, and who signed an insanely draconian anti-immigrant bill into law, is sick of people suggesting that Republicans are racist. Oh?
If you wanted to add fodder to a conspiracy theory I just made up—that Donald Trump is actually an orange-skinned alien and not an actually human—his latest interview with CNN anchor Jake Tapper is probably a good piece of evidence for you to keep in your file/post on your subreddit. Apparently, billionaire…
In a moment that will surely make its way into a Republican candidate's attack ad, CNN's Jake Tapper asked Hillary Clinton about her private email server during a Friday interview. He led in with a reference to Bernie Sanders and his "ya damn emails" remark, causing Clinton to start laughing uncontrollably.
Chris Christie, on the Prez 2016 stump, is out here asking the truly important questions such as, Is he a good Catholic? Even though has he used birth control other than the rhythm method?
Here is White House press secretary Jay Carney entertaining a series of increasingly inane questions from ABC's Jake Tapper about the rumored appointment of Anna Wintour to an ambassadorial posting in London or Paris. First, Tapper asks what qualities Obama considers when making key diplomatic appointments. Carney…
Well, Julia Keller asked, and Barack Obama seems to have answered: In an interview with ABC News' Jake Tapper today, Senator Obama had this to say about Senator Hillary Clinton and the sexism she's faced (it seems to be a rough transcript so please excuse the punctuation/grammar issues): "No doubt there are certain…