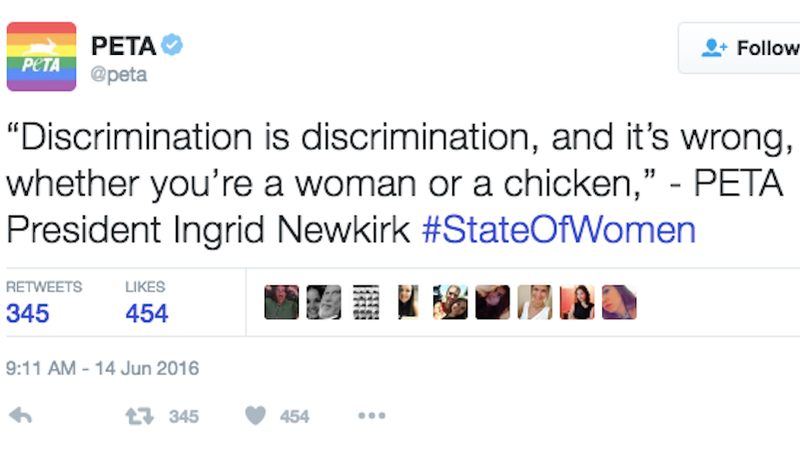 On Tuesday morning, the Twitter account for PETA, the generally unhinged animal rights advocacy group, tweeted the above quote from its president.
PETA — the animal-rights organization whose media strategy seems to be three parts B-list celebrities, one part fake blood, and five parts boobies — co-founder Ingrid Newkirk wrote an op-ed today defending the use of "sexy women in our ads."
We've received a bunch of tips about this PETA ad, which was rejected by NBC for a Super Bowl time slot. The commercial shows several women getting down and dirty with various vegetables.
The Financial Times profiles Ingrid Newkirk, 59, co-founder and president of PETA, which catalogs her controversial animal rights activism through the years. PETA protests have led to the introduction of the veggie burger at Burger King, McDonald's auditing its slaughterhouses, and Mercedes-Benz offering a pleather…
PETA's Ingrid Newkirk has been criticized for using naked women in her ad campaigns, and in a recent
interview
with , she says: "It's rubbish because the organization is run by a woman, who is me. I marched in the earliest of rallies, I am an adamant feminist, but I'm not a prude and I think you can go to the beach…
PETA's Ingrid Newkirk defends her organization's objectification of women in a letter published in today's NY Times. Over at the LA Times, Newkirk weighs in on the head of the Humane Society, Wayne Pacelle, calling him a "very charming man" with a "slower approach." [NY Times, LA Times]
Last night, PETA president/Gaultier nemesis Ingrid Newkirk dropped by The Colbert Report to talk about one of our favorite topics — animals — and one of our less-favorite topics, sexism. (Meaning: the somewhat questionable practices utilized by PETA to covey its message.) And though Stephen Colbert didn't grill…
Madonna is thisclose to becoming the next Anna Wintour, at least in the eyes of animal-rights activists. The pop star and friend of vegan Stella McCartney dyed the sheep at her English estate an array of hues, the better to art direct them for a shoot for Vogue. Says an RSPCA spokesman: "It sends out the wrong message…
When we open our mail most people tend to fear things like, oh, tons of bills and the mailers from the Episcopal church. Not so much for PETA founder Ingrid Newkirk, who "knows that finding a bloody animal organ or a vicious death threat is not just likely — it's expected." Depending on your POV, Newkirk is a freedom…