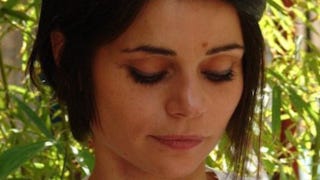 Activists are calling for an investigation into the alleged kidnapping of Syrian blogger Amina Arraf. But others are investigating something else: whether she even exists.
I am a white, cisgender gay man. I'm Ronald Reagan at a bathhouse, the queer equivalent of "The Man." The oppressive, dingy pigeon in the flamingo pen. Parties become less diverse the second I walk in.
I urge you to read Details' profile of what they call "the Amazing Tale of the High School Quarterback Turned Lesbian Filmmaker" because it is amazing - although not just for the obvious reasons:
Santhi Soundarajan knows what Caster Semenya is going through, because in 2006, she went through a similar ordeal. "She should not abandon the fight," she says of the South African track and field star.
If I have to read another article about how some men hate Hillary Clinton for vaguely misogynistic reasons I'm going to give myself a series of tiny paper cuts with the latest copy of Ms. and rub salt in them. But lo! Rebecca Traister goes on for over 4,000 words in Salon today, parsing some young, liberal, and mostly…
The New York Times was deep in the throes of Obamamania this weekend, with four separate articles discussing Barack's candidacy, from Oprah's endorsement to his chances against the dynamic duo of Bill and Hillary. The most interesting of the bunch describes Obama's feminist pitch, i.e., how he plans on stealing some…
Another weekend, another barrage of stories by starry-eyed journalists on the all the American constituents who are just left absolutely starry-eyed by Barack Hussein Obama. Last week it was foreign policy wonks, this week it's college student bloggers and, according to Vanity Fair, Julia Roberts. So what's with his…