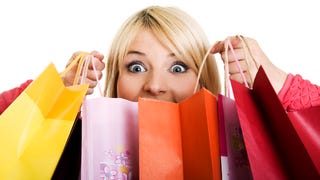 Inspired by the thread that grew when I commented on Dodai's post about Macy's and Lord & Taylor's being open on (US) Thanksgiving, lets share our horrible experiences of having to work on days (or even the general holiday season) when most people are enjoying being with friends and family and you are stuck with a…
Remember the brusque but ultimately golden-hearted transient woman in Home Alone 2: Lost in New York who helped Kevin defeat his adult foes with her team of loyal pigeons? Yeah, well, this story about a vigilante pigeon strangler stalking the streets of Cambridge, England is nothing like that at all. It's actually a…
Lyft, one of San Francisco's most beloved new apps, isn't a bad idea if you think about it very briefly: the city's transit service isn't great, so let's make it easy to pay for a ride from your fellow man. But, surprise, when you let almost anyone be a cab driver, your fellow man is going to creep you the hell out.
Just when you've managed to forget the hell that is being alone on Christmas and New Year's, Valentine's Day rears its ugly heart-shaped head to remind you that you are singularly single and romantically inadequate. The Romantic Industrial Complex, combined with Capitalism's Conspicuous Consumption and Couples'…
Thanksgiving! A gloriously long weekend. The beginning of the joyful "holiday season." A time to count your blessings, stuff yourself, watch TV, bond with loved ones. But also: A time for terrible travel ordeals, recipes gone wrong, intense arguments with family members and maybe even hospitalization from food…
Yes, it's that time of year when high school and college kids look for a summer job. Seasonal employment sucks and usually entails meager pay, pesky kids, and embarrassing costumes. But now your torture could win you a prize. [Gawker]
Police in China have confirmed reports that a midwife recently sewed shut the anus of one of her patients. The woman was apparently disgruntled at not having received enough of a tip, hence the Eli Roth-worthy revenge.
A South Carolina mom has been arrested for suffocating her two children and then pretending they drowned — all apparently a reaction to her own mom's nagging.
Because apparently there's...no procedure for this sort of thing.
Hope Steffey called the cops to report an assault by her cousin, so they took her to jail and strip-searched her. Now they're suing the Cleveland TV station that exposed their horrific behavior. [Shakesville]
New book out: Jena Pincott's
Do Gentlemen Really Prefer Blondes?
It's a pop-science read on the natural laws of attraction: pheromones, smells, evolutionary psychology —you know the drill. And in answer to the Big Question? (Well, the Other Big Question, along with whether or not Blondes Have More Fun.) Yes. Yes, they…