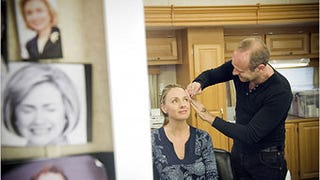 Hope Davis: "She's hard to imitate. Her accent has changed over the years....In 1992, when she became first lady, she had quite a bit of Arkansas still in her speech from her 13 years there...that's really gone now." [NYT]
Michelle Obama and "first tweens" Malia and Sasha skipped the health care talk President Obama gave on ABC last night and went to a Beyoncé concert instead.
Yesterday The Carpetbagger pointed out a disturbing fact of Hollywood biology: actresses playing mom to actors no younger than they are.