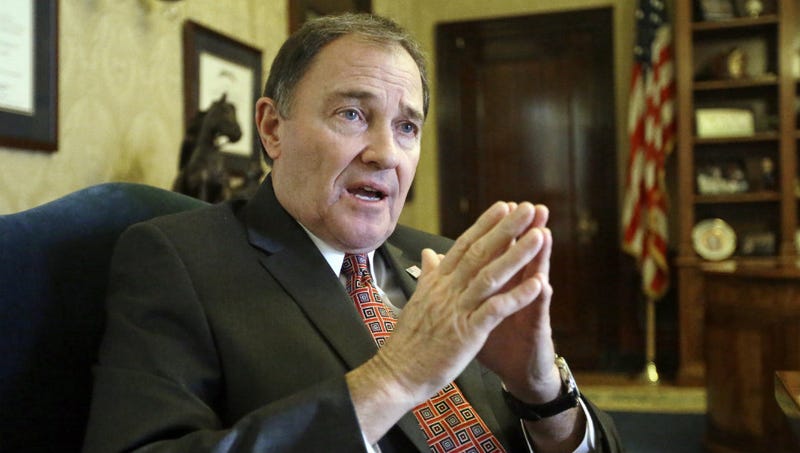 Utah Governor Gary Herbert has signed a bill requiring that doctors administer anesthesia to people receiving abortions after 20 weeks of pregnancy. The bill, you will be non-surprised to learn, isn't about concern for a pregnant person's health, but is based on the bogus notion that 20-week fetuses can feel pain.
Texas Governor Greg Abbott has made a career, calling, and vocation out of suing the federal government—"I go into the office, I sue the federal government," he famously said, back when he was the state's attorney general, but today he took it to a new and special place. Abbott released an entirely insane, wholly…
NASCAR driver Kurt Busch, who's accused of domestic abuse by his former girlfriend Patricia Driscoll, testified in court this week that he couldn't possibly be guilty of violence against her — because, he claims, Driscoll is a trained assassin. He accused his ex of carrying out covert operations for years and said…
The Pope recently (kind of) okayed the use of condoms for male prostitutes to guard against HIV transmission — now he's clarified that his stance applies to women too.
In his new book, Men Deserve All the Advantages, Pope Benedict XVI says male prostitutes can use condoms without going to Hell—er, "without going to Hell as quickly as they will otherwise." Women prostitutes still aren't allowed.
Tumblr Tea Party Jesus lets Christ repeat quotes from those who claim to be his most devout followers. Apparently Jesus hates feeding hungry children as much as Rush Limbaugh, and shares Sharron Angle's harsh views on abortion. [TeaPartyJesus via Buzzfeed]