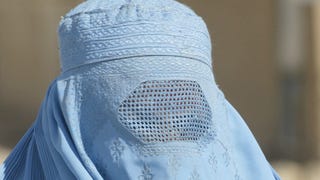 In a video apparently dating back to last year, a Saudi cleric offered viewers a brief glimpse into his fetid imagination when he called for baby girls to be fully covered. With burkas. To prevent sexual molestation. Go ahead, take a moment to wonder whether or not you've wandered into a bad episode of Farscape. Now,…
Every high school student (except the boooooooring kids) looks forward to school-wide dress-up days like pajama day, maybe, or funny hat day, or novelty t-shirt day, or favorite 19th century mathematician day, to name just a few. The possibilities are simply endless, which means, as Crookston High School in Minnesota…
According to TPM's Kyle Leighton, a pretty terrible thing happened on the way to Ann Romney's speech tonight — an attendee at the RNC allegedly threw nuts in the face of a black CNN camerawoman and said, "This is how we feed animals."
Contrary to the wild imaginings of Rep. Todd Akin's fevered brain, women can and do get pregnant as a result of rape, a reality that's horrible enough to think about even without this extra bitter layer: some rapists successfully sue for joint custody of the children they have violently fathered. Though instances of…
At a daycare center that is apparently owned and operated by George Bluth, Sr., three workers allegedly videotaped a fight between the toddlers in their care, thus creating their very own, real-life version of "Boy Fights," which, as it turns out, isn't very funny without Ron Howard's sardonic narration.
TMZ, ever eager to disinter one the creepier, more lurid follow-up stories to the shooting at a movie theater in Aurora, Colorado, has pulled a wriggly worm of an anecdote out of the ground and is waving it around for everyone to flinch at — a Colorado woman named "Diana" says that on Friday afternoon, Match.com…
If Breaking Bad's central conceit — that a harried high school chemistry teacher and his former student team up to enter the lucrative world of methamphetamine production — seems too outlandish to you, here's a strange case that demonstrates just how life can mirror art.