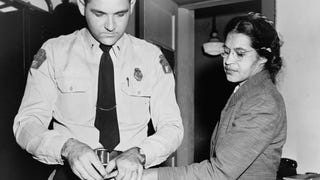 It was Rosa Parks' birthday yesterday and I was reminded of how frustrating the lesson you get on her in grade school is. The story that she was an old lady that just then and there decided to not get up from her bus seat because she was exhausted from work. She comments on this in her autobiography, Rosa Parks: My…
An IRS contractor who has been using a minor, possibly non-existent injury from his prep school days 27 years ago to secure government contracts for his company was publicly shamed by Rep. Tammy Duckworth (D-IL) in such a magnificent way that it almost made his fraud worthwhile.
Public transit can be a terrifying place sometimes, especially when something awful is happening in front of a bus, train, or trolley full of people too busy trying to avoid making eye contact to leap into action. It's a good thing, then, that five disabled homeless men didn't have any such confrontational qualms…
An article in Psychology Today urges us to think about heroism. "One of the major requirements for heroism seems to be a willingness to face physical danger," writes Kathleen McGowan. Studies show that women find risky acts of daring very appealing in a man, which might be one reason why dudes do stuff like that. But…
It used to be that we'd want to date this guy, but now we'd be proud to have him as a son. That's probably pretty sad, right?