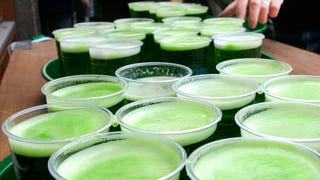 Last week, Boston Beer Company (the makers of Samuel Adams Lager) decided to pull their sponsorship from the St. Patrick's Day Parade in Boston, and it looks like Heineken is doing the same in New York for Monday's celebrations.
Skyfall hits theaters in November, and dashing Daniel Craig is back as James Bond. But this time, thanks to some misguided demographic target marketing, instead of throwing back martinis, Bond drinks beer. Specifically Heineken, which, you know, is European, at least? But still. It might be realistic for a sexy spy…
The ad agency behind this Dutch commercial for Heineken cider claims that it subverts gender norms by showing a group of hot, apple-picking guys shirtless. What say you: female eye candy or pure objectification? [AdFreak]
The tipster who sent in this clip was of two minds: she wasn't sure whether to be offended or to laugh. Ad (in Dutch) after the jump.