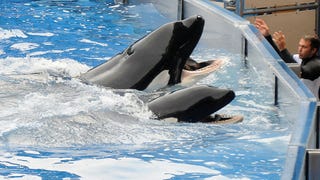 The gut-wrenching documentary Blackfish is having the exact effect SeaWorld worried it might have: it's putting people off of SeaWorld, most recently musical acts like the Canadian band Heart, Willie Nelson, and Barenaked Ladies.
Maybe you want to hold off on having that Burger King delivered to your home (it's a thing now, lord help us), because your gut's lust for garbage meats might be breaking your health nut heart.
In my opinion, every night belongs to Nancy (and Ann) Wilson, because Heart is one of my favorite bands of all time, but since today's Nancy's birthday, let's blast "Crazy on you" even louder than usual. I've already blogged about my love for that song, so here's another favorite. Enjoy and have a great weekend!

Here's a story that really tests the limits of the five-second rule. A heart was being transported to a hospital in Mexico City to be transplanted into a patient there. After it was unloaded from the helicopter outside the hospital, the lid of the cooler it was in came loose, and the heart feel out onto the street.…
It may be a common dramatic device in movies for people to drop dead of heart attack in the middle of having passionate sex, but the reality, according to a new report from the American Heart Association, is that sex is not likely to send you into cardiac arrest—unless you are a man who's cheating on his wife, in…
[Los Angeles, May 24. Image via AP]
[Los Angeles, April 22. Image via Getty]
This cow makes Anna go, "Cuuuuute!" (Click for video.) [Breitbart]