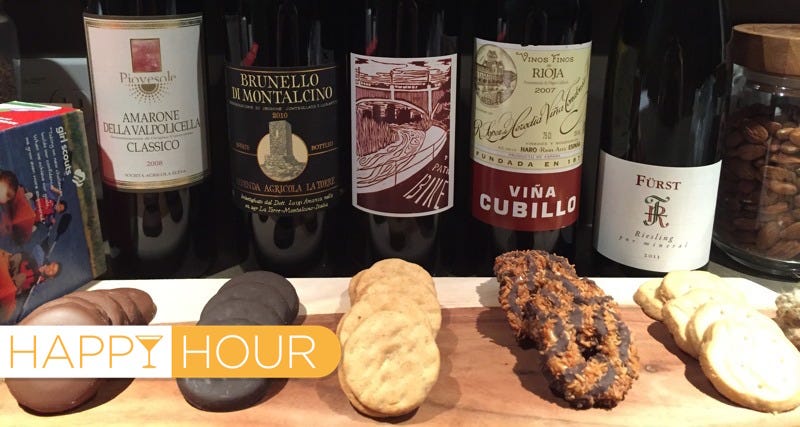 'Tis the season for Girl Scout cookies, and everyone's buzzing about a new guide from the folks behind the Vivino wine app, suggesting 12 wines to pair with 12 different types of Girl Scout cookies. Really? We were skeptical, so Gizmodo actually drank wine with Thin Mints and Trefoils. For you.
It's Friday, and later some of the staff of Gawker Media is going to indulge itself in a bit of Happy Hour. While listening to this song about "Chicken," by London based trio Kero Kero Bonito (via J-Pop), it occurred to me that it sonically encapsulates the way I hope to feel by 7 PM Eastern Time, in the beautiful…
Booze and ice cream. Two of humanity's greatest inventions, so why not combine them? As I discovered on a weekend trip to San Antonio recently, you can, and it's magical. And while boozy ice cream is typically made with gelatin, if you're willing to put in a little extra leg work, yours can be 100% vegetarian.
Listen, drinking all night is not healthy. But it's holiday party season, that perfect storm of open bar and all of your colleagues waiting to see who will be this year's obnoxious, puking, passed out and/or dead person at the party. Don't be that guy.
First off, let's review the science of drunk. In order to survive…
Make Happy Hour plans: Today is National Mojito Day. It's most likely a "holiday" made up by a group of mint farmers, but you don't have to tell me twice to indulge in an adult beverage or seven. Just make sure you tip your bartenders well today. They hate making these things.
Gizmodo has teamed up with Brooklyn's Sixpoint Brewery to create a limited-edition IPA called Hop Tech 431, brewed especially for the Home of the Future. Last week, we looked at the story behind HBC 431, the mysterious and experimental hop we've chosen to brew with. Today, we're exploring exactly what goes into…
Whether or not pregnant women should be served alcohol when pregnant, and more to the point, whether they should drink it, has been a big controversy lately.
Two events: Drinks tonight in NYC at Mercury Bar West, 9th Ave near 46th St, 6:30pm - 9:30pm. Tomorrow? Phoenix readers will be at George and Dragon, 4240 N. Central, 5:30 pm - 8:30pm. Find groups here.
For all the dames Down Under: The Melbourne Jezebels will be meeting on Thursday, November 20th (meaning, today, for those on the other side of the international dateline) at 6:30 pm at the Little Creatures Brewery (222 Brunswick St, Fitzroy). We'll have a VB in your honor now, since it really is 5:00 somewhere, and…
"Female office juniors are almost twice as likely to die from drinking too much than the rest of the population, new figures have revealed." So begins a sobering story in today's Telegraph. Oh, and Lindsay Lohan should note: actresses are 1.8 times as likely to die from alcohol than the general population — followed…
Now that we have all these people working for Jezebel who actually wake up on time to do their posts the end-of-day roundup of shit we didn't get to during the work day falls upon me. Think of it as a daily purge. I suggest you stay around at work waiting for it because you will be the most informed person at happy…