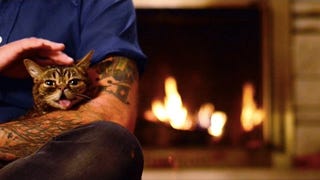 In the name of holiday festivities, please enjoy the 2014 Lil Bub Magical Yule Log video, in which Lil Bub falls in and out of sleep and adorably snores to the sound of a crackling fireplace.
Hail and ho ho ho Satan! After a protracted fight with the state officials, the Satanic Temple will be allowed to put up a holiday display in Florida's state capitol building, depicting an angel plummeting into a lake of fire. It's the same holiday display that Florida's Department of Management Services rejected last…
As I looked at yet another roundup of glitzy, frilly, festive holiday apparel today, I suddenly couldn't help but wonder: who's actually going to all these fancy "holiday parties?"

Last year, the Janice Dickinson Modeling Agency aired a Christmas special that included Janice's version of the "12 Days of Christmas." Of course, hers isn't exactly traditional, as it involves her divorces, Botox injections, fake breasts and five naked men, but it's festive just the same. Is it safe to say that this…