If, by chance, you seek an excuse to spend the rest of your Sunday evening watching Empire Records and The Craft back-to-back, know that your pal Rachel has got you. Robin Tunney (aka Debra and Sarah Bailey, respectively) turns 44 today. Why wouldn't we want to celebrate?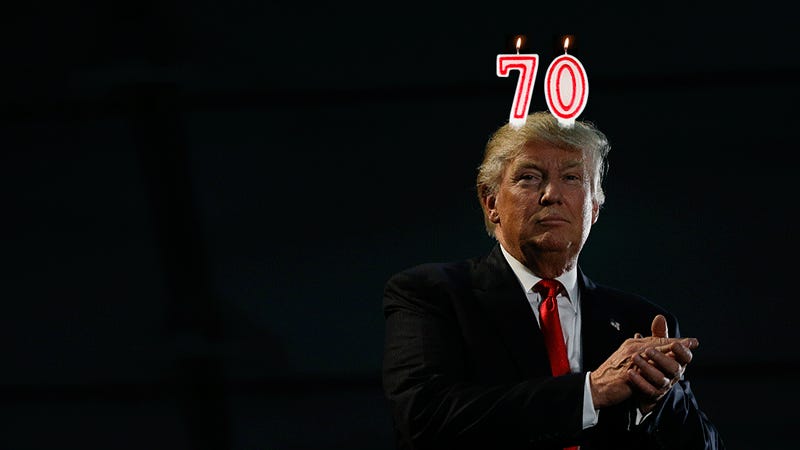 Wow, today is an auspicious day. Not only is June 14, 1940 the day that Nazi troops invaded Paris during World War II, it's the day that—just six years later—Donald Trump, an exploded goose down pillow bathed in menstrual blood, would invade the United States.

There's a reason that fine restaurants such as The Olive Garden don't sing the traditional "Happy Birthday" to their guests, and you can thank the fact that the song is under copyright for the non-traditional embarrassment you feel while three to five disaffected servers remind you that it's your "happy, happy…
Facebook is useful for so many things, and yet mostly what it is good for is providing you with new and technologically advanced ways to feel miserable. One of the most effective weapons Facebook offers in the quest to destroy your self-esteem is the ability of people to defriend each other. Nothing cuts deeper than…
This weekend, Judy Blume celebrated her 73rd birthday and Henry Rollins celebrated his 50th. Let's wish both of them a happy and healthy 2011 and imagine how hilarious it would be if they hung out.
In a tribute to the birth control pill, which turns 50 years old today, CBS contributor Faith Salie argues that the pill not only revolutionized women's sex lives, but it also "produced better mothers: fulfilled women who deliberately created families."
Juana Bautista de la Candelaria Rodriguez might just be the oldest living person. Rodriguez celebrated her 125th birthday last weekend in Cuba with her great-grandchildren and great-great-grandchildren, but her age has not yet been officially confirmed. [NYT, Image via Flickr]
Happy Birthday to Jenny the gorilla. Jenny, who turned 55 today, lives in the Dallas Zoo and is the oldest living gorilla in captivity. For her birthday, her caretakers brought the 210-lb beauty a frozen fruit cake. And many more, Big Girl! [CBS News]
Happy Birthday, Hello Kitty! The cutie cat turned 33 on November 1, and celebrates all month long! She's got partnerships with handbag designers, jewelry designers, and Barbie. Visit Sanrio.com and you'll see that Hello Kitty's got a new look — off-the-shoulder tunic tee, short shorts and boots. We liked her best when…
The Rabbit Habit, the world's most famous sex toy (thanks to SATC), is celebrating its 10th birthday! To commemorate the event, Babeland in L.A. is having a free mini-workshop tonight dedicated to the dual-action vibe. Also, there will be carrot cake! So go on over there and get your two orifices stimulated. [AVN]