But don't go sticking Trident in your ear. Scientists have found that chewing gum with the sweetener xylitol could reduce the number of ear infections kids get. The catch: you have to chew it five times a day, and even then it only cuts infections down by 25%. Still, if you're a kid who's really into gum, this could…
Gum, while being chewed, can eliminate bad breath, quell mild hunger, and fend off a case of the snoozes (or, depending on who you ask, chewing gum can make you look like a minty-mouthed bovine hussy). But both normal people with normal opinions and my grandma can agree that already-been-chewed gum, when out of the…
In an effort to reduce the cost of street cleaning, lawmakers have ruled that all gum sold in Spain must use a less-sticky copolymer of vinyl acetate and vinyl laurate. The only problem: The new compounds are linked to cancer.
A Florida company has created a brand of gum they say helps boost male libido. But before you reach for the magnums, Sexlets "don't claim to cure anything" and are available for the low, low price of $11.97. [UPI]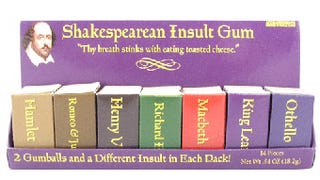 In yet another study touting the benefits of chewing gum, researchers suggest it may boost academic performance in teens. But, some doctors warn we should be wary of all this Wrigley's-funded research.
I was watching the Biggest Loser on Tuesday at the gym, (Is it masochistic to watch a weight-loss show while working out? Sadistic? Just ooky? Whatever. I digress.) and I noticed a commercial for Extra! Gum, touting it as "the long lasting 5-calorie snack" that will "take you from 'nice gut' to 'nice butt.'" The…