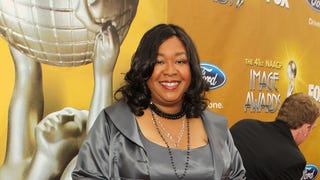 Shonda Rhimes, the brain behind Grey's Anatomy, Private Practice and Scandal, would like it if you stopped calling her shows "guilty pleasures." (Hey, we talked about this last week!)
Sadie's trashy reads series and revisiting of the rapey romance novel inspired me to reread a rape-laden book that scandalized me in my adolescence. This one was called The Conqueror, and it had Fabio on the cover.
How, you asked, could we neglect solid-gold trashiness like Harold Robbins! And Jilly Cooper! And Anne Rice! Don't worry, kids, we're not done: herewith, more titles, suggested by you, that make an argument for the anonymous benefits of a kindle...
Today on Today's "Yenta Hour," the ladies complained that texting is hard, Hoda got cougar-y, and Kathie Lee wrote a musical called Keepin' It Real!
Hey early Christmas shoppers: A few shots from the 2009 David Beckham calendar have been
unveiled
. Some of us have established that we do not like his voice. But! Do we like the beard? (Click pic at left to see additional images.) []
According to an article in the New York Times, a study by researchers at the University of Toronto found that children who, while in the womb, were exposed to the chemicals nail salon workers use performed worse on tests for cognitive function, language and behavior — and the intensity of exposure for salon workers is…