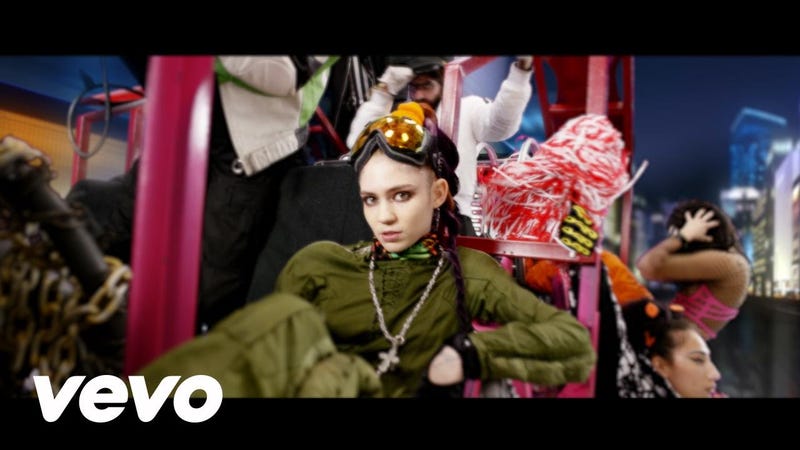 In the new video for the song, "Kill V. Maim," from her album Art Angels, Grimes leads a group of subway-inhabiting vampire misfits in a futuristic dystopian city. What exactly inspired Grimes to write the tune? According to Rolling Stone, she described it as being from the perspective of Al Pacino in The Godfather:…
"At first, I guess, there was just Grimes. I don't technically have control over her narrative anymore. You know, she very much exists in pop culture now. Grimes as one person cannot represent more than a couple ideas," the musician says at the start of a new short documentary produced by Fader. That loss of control…
Grimes teamed up with Bleachers, Jack Antonoff's solo side project, to release "Entropy," a twinkly track that premiered on last night's episode of Girls.
Claire Boucher, the artist currently known as Grimes, sneak-dropped a new video for the scrapped demo "REALiTi" as a treat for her fans who saw her tour across Asia, and it's a peek into her future direction: more declaratively pop with a new-wave bend in its knee, and vocals with lyrics that are actually discernible…
Back in 2009, I worked for a popular late night TV show and one part of my low-ranking job was to go out and purchase all of the items on our guests' riders. Some people were high maintenance (one jazz singer requested 6 newly purchased white washcloths, 6 newly purchased black wash cloths and so much food and…
In today's Tweet Beat, people are still still talking about Miley, to the point where Ryan Adams agreed with Sean Hannity about something (or not). There's also Kevin Jonas, who has decided to announce the sex of his child the weirdest way possible and Grimes, who feels the way some of us feel about all video games.
Yes, it's part of Buscemi's ongoing Vampire Weekend podcast for American Express (she wrote, as if she had any idea what that actually means) and not a random man-on-the-street encouter, but still. Grimes! Grimes's outfit!