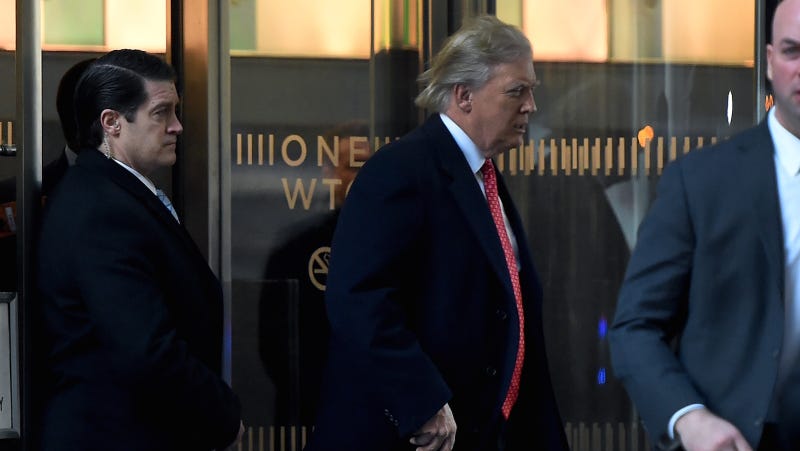 Today, President-Elect Donald Trump met with top editors at Condé Nast, several of whom have taken extremely adversarial stances against Trump (Vanity Fair editor Graydon Carter, who coined the term "short-fingered vulgarian," perhaps most of all), in an off-the-record meeting.
On Wednesday, Vanity Fair proclaimed in the headline of an extremely negative restaurant review that Trump Grill, the steakhouse in the lobby of Trump Tower, "Could Be the Worst Restaurant in America." Author Tina Nguyen decried the restaurant's "flaccid, gray Szechuan dumplings," "French-ish paintings that look like…
A new report from The Daily Mail—so, yes, taken with a grain of salt—claims that Vanity Fair suddenly killed a story on billionaire property developer Mohamed Hadid, father of Gigi, Bella, Anwar, and one of the biggest, ugliest half-built mansions Bel Air has ever seen.

There are three things that are constants in this cold, suffocating life: death, taxes, and the ghostly whiteness of everyone on Vanity Fair's annual self-congratulatory Hollywood issue. And in its 15th year, on a just-released cover, we've gotten... more of the same. Vanity Fair, old reliable. All-white people in…
This is probably, prrrrrobably not true, but feelings-haver Taylor Swift may have made an enemy of Camelot by attempting to collect Kennedy boys like Pokémon. Apparently Tay-Tay made out with Patrick Schwarzenegger at a family event she attended with her boyfriend Conor Kennedy, and the whole clan except Conor is…
The cover of the 2011 Hollywood Issue of Vanity Fair was shot in Los Angeles and New York over the course of two days by photographer Norman Jean Roy. It features fifteen actors. One of whom is black.
Anna Wintour, editor-in-chief of Vogue and global fashion éminence grise, rarely speaks at length publicly. (When Cathy Horyn, fashion critic for the New York Times, profiled her last February, she got Karl Lagerfeld, French megamogul François-Henri Pinault, and Marc Jacobs's business partner, Robert Duffy, on the…
The latest Vanity Fair features an extensive investigation into an eeeevil corporation called Monsanto. You may have heard of Monsanto; they make genetically-modified seeds. Long a target of the Frankenfood fearmongers and self-righteous polisci majors, Monsanto makes fancy seeds that are immune to the destructive…
Vanity Fair, taking a page out of the teen magazines we all loved so dearly, has created a quiz of sorts on their Vanity Fair Insider website to allow readers to see the perfect gift for everyone on their holiday shopping lists. Visitors are asked to set sliding scale thingies to denote the gender of the recipient…