And by defying, I mean abiding by. Because: DAMN, GIRL.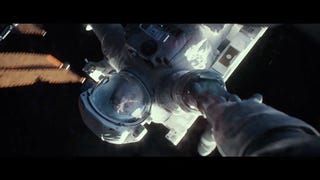 Someone's got their phasers set to stun: Gravity's blasting off in theaters and earnings are out of this world. The flick was number one at the box office for the third week in a row. Stellar! (Trying to think of more puns but spacing out.)
Gravity was the number one movie in the country — actually, in the world — this weekend, and is breaking all kinds of records for non-holiday box office holding power.
Cady Coleman is a veteran NASA astronaut who was two-thirds of her way through a five-month stay at an International Space Station when Sandra Bullock phoned her up to get info on how to act like an astronaut. What's more impressive here — the fact that she was in space or the fact that Sandra Bullock can summon…
James Cameron might love Alfonso Cuarón's latest but I don't know if I'll be able to get through it without having a motherfucking heart attack. BREATHE.