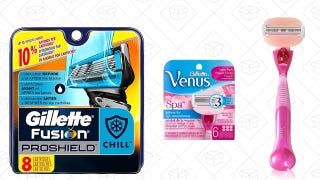 "Ah, the age-old question," intones Gillete's Winklevoss-esque razor pitchman as he strolls up to none other than KATE UPTON!!! at a poolside cocktail party that threatens, at any moment, to turn into a Roman orgy. Well, what is it that women want, Gillette? What do Kate Upton, Hannah Simone, and Genesis Rodriguez…
Cosmo is shedding light on a terrible problem in our society: Ladies who use men's razors. A recent study by Venus found that 30% of women use razors made for beard-shaving, prompting the mag to write in an article encouraging ladies to use appropriately-gendered shaving products:
Kudos to Gillette for coming up with the cutesiest term imaginable for removing hair from your crotch. We appreciate the company's efforts to liberate women by providing "A shave so smooth you can skip a day or two," but we already took things to the next level last winter with our months-long Shave-bernation.

Razor manufacturer Gillette wants British women to slim, tone, and love their legs... while simultaneously ruining their feet. London newspaper The Sun reports that the company has created something called "The Sexy Stiletto Workout" — involving dumb dancing moves, plastic chairs, and sky-high footwear — which they…