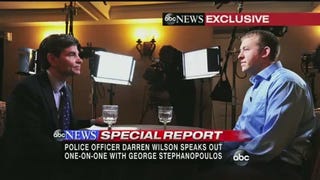 In a short preview of an hour-plus interview taped with ABC's George Stephanopoulos at a "secret location," Stephanopoulos revealed that Officer Darren Wilson told him Tuesday that he shot Michael Brown because he "feared for his life."
ABC has announced that World News's Diane Sawyer will be stepping down from her role as anchor in order to pursue other roles with the network. Replacing her will be Good Morning America cohost George Stephanopoulos for breaking stories and David Muir for day-to-day anchoring duties, thus returning network nightly…
In their neverending quest to alienate the lady voters of America, Romney's campaign took another giant (mis)step toward accomplishing the goal of having only one woman cast her vote for Mitt in November. (Ann Romney is nothing if not loyal to dear Mittens.) Romney's senior campaign advisor Eric Fehrnstrom was on…
Rick Santorum, who will never be President but who can still keep his boyish dreams alive by pretending he can run for AmericaPope, has caught some flack in the last few days for his puritanical position on porn. Santorum believes that porn is responsible for all manner of social ills, from divorce to critical lack of…
Herman Cain's alleged mistress Ginger White took to Good Morning America this morning, where George Stephanopoulos tried to ask her a bunch of gotcha questions and White responded by successfully avoiding saying one interesting thing. How is it that she's so boring? Her name's Ginger! She was flown all around the…
Today in her first story for GMA, family and parenting correspondent Elisabeth Hasselbeck examined the budding trend of teens wanting tattoos. It's groundbreaking reportage, but the best part comes after the segment, when Elisabeth sasses George Stephanopoulos.
Today on GMA, Andrew Young described the moment he agreed to claim paternity of John Edwards' love child (apparently, Edwards asked him while shopping in PetSmart). George Stephanopoulos wonders, "How can you not simply say, 'Are you crazy?'"
Taylor Swift received eight Grammy nominations. "I started freaking out and jumping up and down," she claims. On winning one, she says:
Hip-hop stars, like memoirists, are often accused of embellishing their criminal histories to seem "authentic," but the story of how Senegal-raised Akon manufactured an elaborate fake past replete with car chases, a high-end car theft ring, prison rivalries, and a fictional 75-year sentence that somehow got reduced to…