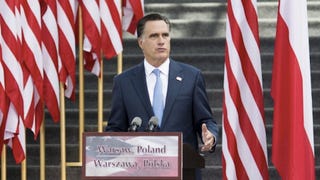 Coverage of Mitt Romney's hilariously bumbling world tour has been better than coverage of the Olympics, and with even more heartbreak, tears, and disastrous dismounts — that's what makes good television. During today's stop at Poland's Tomb of the Unknown Soldier, Romney's traveling press secretary responded to…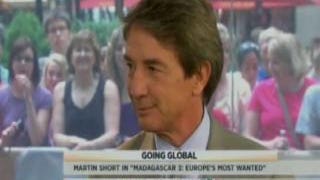 Comedian and class act Martin Short was with his wife Nancy Dolman for 36 years before she passed away from ovarian cancer in 2010. Unfortunately, not a single researcher informed Kathie Lee of Dolman's death, leading to a heartbreakingly awkward situation on this morning's Today Show where the actor was appearing…
Ann Romney, she of the couple'a Cadillacs, the wife of an ex-governor finance millionaire who last year complained about being unemployed while bringing in over $20 million in income on interest, appeared on Fox News today to say some Oblivious, Tone Deaf Rich Lady things to the American people. Namely, that she…
Depending on your feelings on Meghan McCain, this clip either shows that we all misspeak sometimes, or demonstrates the dangers of nepotism. Today on MSNBC, McCain declared the Obamas deserve an "emoticon" of privacy, then repeated the word in case anyone didn't hear her. Feel free to speculate on what that might look…
Everyone in the Republican Presidential field has said so many dumb things by this point in the campaign that it now appears that divorce expert and seasoned condescentionist Newt Gingrich might have a fighting chance to win the nomination. One candidate apologized for taking a sip of beer during his wayward teen…
Yesterday two male announcers launched tag team on-air screed against female involvement in the English Premiere League. If it's fair to assume that ladies don't understand sports, is it also fair to assume men don't understand microphones?
Considering the fact that this woman's entire career has basically been one big, steaming pile of embarrassing gaffes, I don't think this will affect the blind allegiance her followers feel toward her. Oh, that's just Sarah bein' a fact maverick.
Silvio Berlusconi's "bunga-bunga" ways may finally be catching up to him. But the fact that this sexually-harassing, gay-bashing, allegedly sexy-Santa-loving buffoon is still Prime Minister of Italy says a lot about the difference between their political culture and ours.
Yeah, because the speech-writing team led by a 29-year-old would totally fuck that one up. Nice try, White House. Why not just suck it up and admit you're a little oldish? It's less embarrassing for everyone involved.