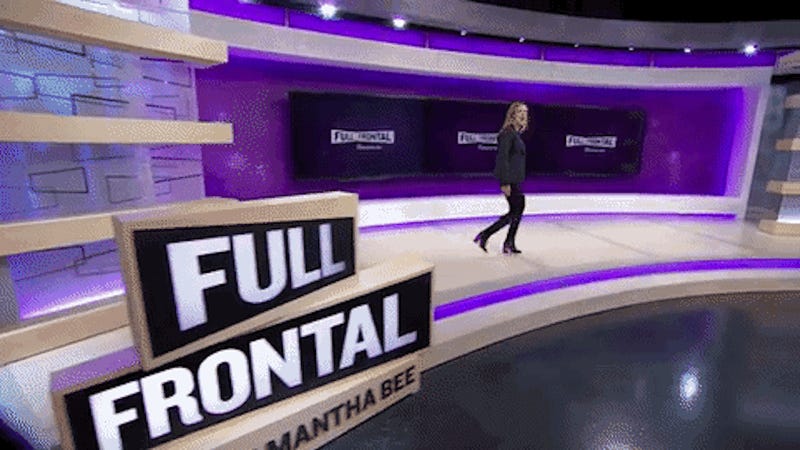 Welcome to Fashion Scavenger Hunt, a long-running Jezebel column in which we all work together to find the elusive product of your dreams. Need help with a style or specific item, or just looking for advice on dupes? Email me at julianne@jezebel.com and I, too, will put my nimble googling fingers to work.

Samantha Bee is attempting the seemingly impossible and no, this time we're not talking about her bid to blow a vagina-shaped hole in the boys club that is late night TV. Instead, we're speaking of her sincere effort to sit down with Trump supporters and hear what they have to say without making fun of them. It does…
There's a scrappy quality to Full Frontal, the new TBS late night talk show led by former Daily Show correspondent Samantha Bee. Confident and natural on stage, the host—who's currently (as no one's been able to let her forget) the only woman in late night—strikes out immediately with a fury that's startling and…
A recent Samantha Bee interview in New York Magazine reveals that the writers room for her new show, Full Frontal with Samantha Bee, is "50 percent female and 30 percent nonwhite," making it one of the most (if not the most) diverse writing staffs in late night.
In September, Vanity Fair ran a story in which 10 male late-night hosts were featured and referred to as, "all of the titans of late night television." As expected, the internet blew up at the lack of women in the portrait, especially the absence of one particular fixture from late night TV. Samantha Bee, a longtime…
Breaking Sex and the City movie news: There is full frontal peen seen in the film! The Movie City News blog that mentions it doesn't say whose penis we see, but I have a feeling it will be spotted in or around Kim Cattrall. If only we had a hot pink Drudge siren with Swarovski crystals for this sort of thing. [The Hot…