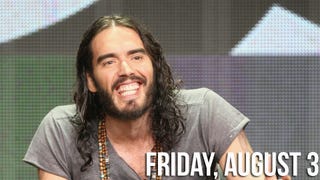 In a case of movie title imitating life, Russell Brand's facial hair refused to begin filming Eric Idle's new musical What About Dick? until he convinced a wardrobe assistant to flash him. He actually delayed production for two hours, haranguing her the entire time. A source said:
Holy Shit Great Idea…
Residents of Manhattan's East side have to constantly deal with the construction that is slowly but surely (fingers crossed) creating the Second Avenue subway line. But a local construction worker from Queens is, as he put it, "trying to give back a little bit." His name is Gary Russo, and he spends his entire lunch…
"[Sarah Palin's] clearly a total feminist, I mean in the true sense of feminism, she is her own person. She does her own thing. She does it her way." -Newt Gingrich, on how being like Frank Sinatra is feminist. [Time]
We're not size queens or anything but the HBO comedy Hung—about a man (Thomas Jane) with a large penis—premieres in June, and it got us thinking about big penises, the ultimate status symbol for men*. After the jump, a list of famous ones.
Could Oscar winner Jamie Foxx play Frank Sinatra in the highly anticipated upcoming biopic directed by Martin Scorsese? "Cool is colour-blind," says an industry source, "Jamie would seem to be born to the role." [DailyExpress]
Eminem says Elton John helped him fight his drug addiction. "He had a substance-abuse problem in the past. So when I first wanted to get sober, I called him," explains Em.
It hasn't gotten quite the press of, say, Scarlett Johnasson's phone banking for Obama, but Mia Farrow has exploited every waning ounce of her celebrity reminding the press freedom-enjoying community that China imports billions of dollars worth of oil from the Sudan, sometimes trading that oil for weapons and anyway…