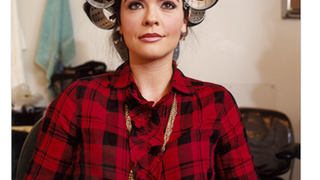 Frank Bruni's profile in the new NY Times Magazine uses Katie Lee to chart the Hollywood-ization of food. It also suggests that, as in any show business endeavor, being very pretty isn't necessarily enough to make you a real star.
We don't know how to feel about the revelation that Scott Brown wore pink leather shorts on his first date with now-wife-Gail. While asserting defensively that they were a modeling freebie, Brown stands by the choice: "Pastels were in." [VF]
Today, Frank Bruni has a terrific piece about the dining idiosyncrasies he's encountered over the years as a professional critic. But he's never met me, or the Ordering Challenge. It will change your life, and not in a good way.
When it comes to today's "challenge" in the New York Times' "Dining" Section - Great Meals for Two, Under $100 (It's Possible) - most of us could probably have given restaurant critic Frank Bruni a pointer or two. Bruni describes his task as finding "a dinner for two that was at least three courses in a restaurant…
We're not sure what to make of the recent spate of mainstream food critics giving the thumbs up to the food at Manhattan mammary meccas (preceding term stolen from Page Six). First, New York Magazine's Gael Greene gave a nicely-manicured thumbs up to Hawaiian Tropic Zone, singling out its veal chop as "splendid" and…