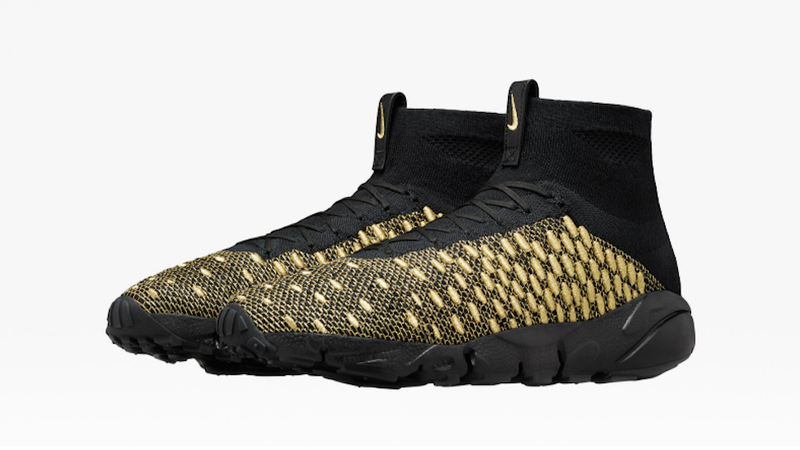 Ah yes, the time has come for Balmain's celebrated designer Olivier Rousteing, also known as personal couturier and BFF of the Kardashian brood, to collaborate with Nike on some cool athletic garments you can wear to the club, the office, the hypebeast kaffeeklatsch or, worst case scenario, the actual gym.

On Wednesday, Racked published a guide to wearing socks with sandals, and that's just so weird because we thought we had already published the definitive guide in 2014??? And also in 2010???
In the past few years, fashion has made way for the pool slide, the Birkenstock, the Teva. Fashion has even given credence to the flatform flip-flop, an iffy selection at best but defensible given the context of '90s and '00s revivalism. But Marc Jacobs, in his latest Spring 2016 Men's Collection, has taken the fugly…
Crocs, Inc., the company responsible for those ugly porous foot holders for shoe-resistant people, has been floundering lately. Things have changed a lot since 2007, when the world populace lined up to place their appendages into lightweight clogs — but now, as Crocs, Inc. wheezes helplessly, a charitable figure has…
Dogs hate having things on their feet, be those things socks, boots, shoes or, as was most likely the case with Jacques Cousteau's dog, flippers. Unfortunately for dogs, their unwilling shoe-wearing adventures are funny, and some dog owners can't help but shod and subsequently exploit their unlucky companions. At…
Women wear heels for many reasons — to look long-legged, to stand at eye level with taller men, because they have Barbie feet. I, for one, wear heels so that if I'm attacked while walking to or from the train, my footwear can double as a weapon, plus, "My goodness gracious, how do you not break your neck?" is a great…
According to podiatrist Olivier Zong, foot fungus, "breeds in dark, wet environments — conditions that are usually seen inside trendy sheepskin boots." Another doctor says that's true of "any sock and shoe," but at least other footwear is less hideous.
Whaddaya know, but the Crocs designers seem to be fresh out of ideas to extend the shelf life of their hideous footwear, which has been rapidly fading from the national fad-consciousness since early 2008. They want your help.
• Boot porn: who knew that shoes could be this ugly and expensive? (The gems on the left cost $1,350. Yee haw!) •
Yesterday Mitt Romney, political mastermind that he is, visited the headquarters — I was going to write "factory"; joke's on me! — of the New Hampshire-based boot company Timberland, and he left without picking up a pair. He had no time! And yes, he is losing, McCain is winning and Bill Clinton is hastening the ascent…
Most of us can agree: The Sex and the City-ization of our society has gone too far. But neither the proliferation of the pink cocktail nor the flock of wannabe Carrie Bradshaws springing up in college papers [And downtown New York City. -Ed.] seem quite as vulgar as the idea of Manolo Blahnik shoes for men.…
In Marc Jacobs' collection for spring 2008, the designer showed clothes with shoes that were a wee bit unusual. Yesterday, Erin Kelly described them in the Daily Mail: "A chunky, four-inch heel nestles horizontally just under the ball of the foot. Where you'd expect a heel, there is nothing but fresh air." The shoes,…