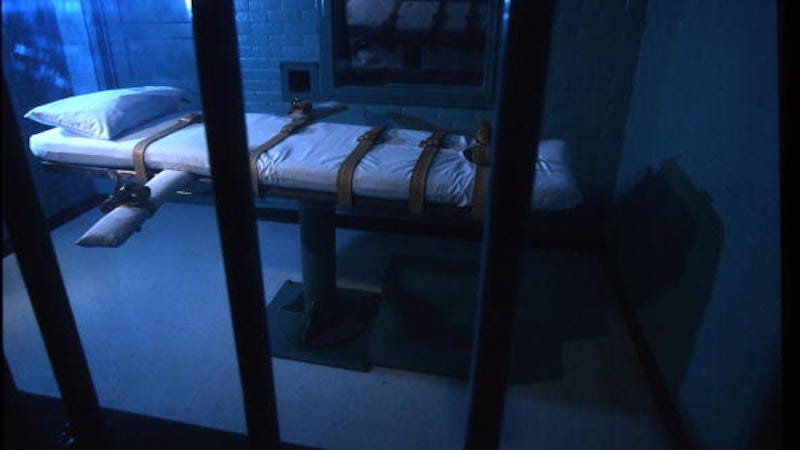 On Monday, October 19, the state of Ohio deferred its execution schedule until January 2017 due to problems acquiring the appropriate drugs for lethal injection. A dozen inmates have had their dates of execution accordingly postponed.
Two Syrian civilian women were publicly beheaded alongside their husbands by the Islamic State this week, according to a report by the Syrian Observatory for Human Rights.
A Syrian woman accused of adultery by the Islamic State has reportedly managed to survive their attempts to execute her by stoning. The Syrian Observatory for Human Rights says the woman was stoned in the streets of Raqqa, but managed to run away after the ISIS militants torturing her believed she had died.
This past Saturday, Reyhaneh Jabbari, a 26-year-old woman, was hanged for the 2007 murder of former Iranian intelligence official and doctor who she claims attempted to rape her. The execution was immediately condemned by various organizations and governments who had previously asserted the case was not properly…
When 44-year-old Iranian woman Sakineh Mohammadi Ashtiani was sentenced to death by stoning for adultery, the ruling provoked protest and calls for her release worldwide. Now Iranian officials have indicated that they may bend to international pressure, but they won't let Ashtiani go, they'll just hang her instead of…
Iranian authorities have reportedly ordered that Sakineh Ashtiani be executed for adultery tomorrow, and protesters are mounting a last-ditch effort to save her.
Iran's chief prosecutor says Sakineh Ashtiani could still face stoning for adultery. This contradicts a report that the stoning had been canceled, and President Ahmadinejad's statement that the sentence "was made up."
For the first time in a hundred years, a woman is on death row in Virginia. Now Iran is calling the US hypocritical for its objection to the execution of Sakineh Ashtiani. Are they right?
Debra Schaefer, warden at the SCI Muncy correctional facility in Pennsylvania, treats the inmates like she treats her children. "Some days I go in there and I feel like I'm a foster mother," she says — "the only difference is I show my children love." Debra is one of three women profiled in a Times of London piece on…