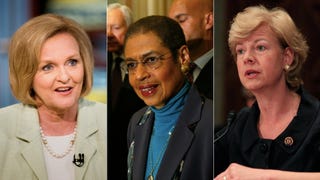 Today, the pro-choice, pro-lady Political Action Committee EMILY's List is launching a tool that will make you simultaneously proud to be a woman and terrified of an America where women aren't given a chance to lead. It's called The Impact Project, and it traces the role Democratic female lawmakers have had in passing…
Recently, DNC chair Debbie Wasserman Schultz called out Republicans for their "war on women." House Republican women have a response to that, which boils down to, "Nuh-uh!" Or to be precise, "We are not attacking women. We are women."
A notable number of women are getting ready to run in 2012, The National Journal points out today. And not all of them are as far-right as Michele Bachmann!
Randall Terry to abortion providers: "When I, or people like me, are running the country, you'd better flee, because we will find you, we'll try you, and we will execute you." And he just met with Speaker Boehner's senior staff.
Here are a bunch: Senator Jim DeMint still thinks unmarried mothers and gay people shouldn't be allowed to teach in public schools, Senate candidate Rand Paul thinks too many poor mothers get Medicaid, and anti-choice John Boehner would be Speaker.
Sarah Palin is not pleased with EMILY's List's grizzlies parody ad, adding on Facebook, "Lying about a sister while wearing an Ewok outfit is no way to honor our foremothers on the eve of the 90th anniversary of their victory."
EMILY's List is counteracting Sarah Palin's "Mama Grizzlies" schtick with this video. Question: If the women are pretending to be grizzly bears, why do we need to know their real-life professions? Still, kudos on the message and intent.
Americans United for Life is calling Elena Kagan, whose confirmation hearings begin in a week, a "pro-abortion activist." Unfortunately, actual abortion-rights activists are far from convinced.
In a 5-4 ruling today, the Supreme Court has (again) decided that the prisoners at Gitmo deserve some semblance of the rights afforded everyone else imprisoned in this country, like the right to protest to a judge the fact that they've been held for 6 years without charges. In his dissent, Justice Antonin Scalia…
Okay, I realize I'm taking a wild gamble here, but this is Mike Bibby. Of all the dreamboats on the 2002 Sacramento Kings he was the dreamiest, although I'll always carry a torch for Vlade Divac and Bobby Jackson also rules... anyway, so. Everyone hearts the Sacramento Kings this year. Moreover, everyone hates the…