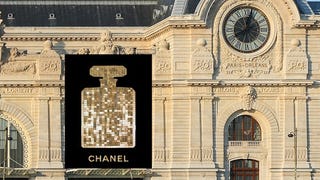 Chanel is apparently turning the Musée D'Orsay in Paris into a giant, sparkly, 2,890 square foot billboard for No. 5 perfume. We hope the museum is being rewarded handsomely for its services as a host for corporate messaging. [WWD]
No, Alber Elbaz, some of them are 18! Eileen Fisher made waves - and hurt Rosie - when she sniffed of the plus-sized market, "Well, it's just not the image that we're going for." What image are designers going for?
Zoe Kravitz, negotiating the transition from Famous Daughter to Celebrity, has committed the necessary act of being photographed by Bruce Weber for a perfume campaign. Vera Wang was the lucky partner in fame-chasing. Shall we expect a reality show? [People]
Did L.A. boutique Maxfield drop Victoria Beckham's dVb in favor of Holmes & Yang? Posh's people say Maxfield hasn't ordered the line for three seasons, and the decision had nothing to do with Katie Holmes, who is Posh's friend. [P6]
Another day, another story about how hard it is to make plus-size clothing.
A match made...somewhere. Miss USA contestants will be sporting barely-there bikinis from the Jessica Simpson collection. [NYDN]
The nebbish-weight cage match between Woody and Dov continues, as Allen decries the jersey-meister's "rep-tarnish" tactics. [NYP]
Katie Holmes is the new face of Miu Miu. Srsly? [New York Magazine]
Marc Jacobs' company has been accused of bribing a state official so the designer "could get a desirable venue for his fashion show." They're paying $1 million in fines. [TMZ]
In happier news, Marc is open to marriage! Even if California isn't. "I…
There's something about the low-budget production value, the cheesy music and the women just sorta "hanging out" and embracing themselves in this Eileen Fisher commercial that brings to mind soft-core porn. (It's mostly the music.) You know, right before the dude arrives on the scene and starts seducing and…