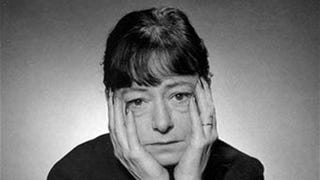 A woman wrote into Obit's "Ask Judy" with a real problem: an airline ruined her first-class flight with a dead body, and refuses to give her a refund! Given the subject, we thought we'd better ask some dead people!
This week, a dude wrote into the WaPo's Carolyn Hax with a relationship question. Her advice was great and all, but we were curious to see what famous dead people had to say!
This week, a concerned citizen wrote in to Obit's resident sage, Judy, with a question of doctrinal import. Judy took care of rational advice, so we thought we'd ask a bunch of dead people!
A troubled wife consults Slate's peerless "Dear Prudence." Prudie takes care of sensible advice, so we went ahead and asked a bunch of dead people!
The writer may have asked The Spectator's "Mary." We asked a bunch of dead people!
"I feel like I'm the shit when I drink. I feel invincible. You kind of get beer muscles. The bullshit falls away." This is a quote from a New York Magazine article on young women and drinking, but it could be a quote from anyone who has ever been drunk, male or female. The thesis of the article is that drinking,…
BlueStocking, a feminist online journal from Oxford that aims to "investigate the intellectual and artistic achievements of women," has an essay in their current issue making a case for the artistic importance of Zelda Fitzgerald. Mostly Zelda is thought of as F. Scott's wife, and writer Lindsey Meyers says Zelda was…
MediaPost writer "Dorothy Parker" agrees with our own Slut Machine's assessment of the 35th anniversary issue of Ms. Magazine. "I am a feminist, and I'm rooting for Ms. to hang around for at least another 35 years," Parker writes, "But I'm also a journalist, and this issue is as dull as a macramé planter from 1978."…
Long before the advent of strawberry-flavored cocaine and the Cosmopolitan cocktail, women were enjoying other adventures in mixing fun flavors with mood-altering substances. According to this news item taken from an old issue of Popular Science, the cosmetics-minded, booze-drinking women of America were painting…