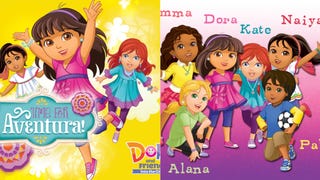 Did you know Dora the Explorer has been on the air for 14 years? Well, it has, and now the show's creators are looking to extend Dora's lifespan a little longer by introducing Dora and Friends: Into the City, a new show that will feature an older Dora. The catch? New episodes of the original show are still airing.
Most of us know Dora the Explorer as the bilingual Nick Jr. children's cartoon that's slowly infecting our nation's youth with bleeding heart liberalism and tolerance, but did you know that Dora is also a badass action hero with a hot, shirtless (and, in this case, grownup) sidekick named Diego? Well, she is — Dora…
Ohh, maann: Fourteen-year-old Caitlin Sanchez is suing Nickelodeon, MTV Networks and Viacom, alleging that she and her parents were"duped" into signing an "unconscionable" contract.
To celebrate Dora The Explorer's 10th anniversary, Nickelodeon is airing an hour-long movie on Sunday night, followed by a 12-minute documentary featuring Salma Hayek, Shakira, and Anderson Cooper. She'll also ring the New York Stock Exchange's closing bell on Monday.
Click to see what Inception would have looked like if it starred Dora the Explorer. Spoiler: In this version, the key to ensuring your dreams won't be raided is chanting, "Swiper, no swiping!"
[Burbank, March 2. Image via Getty]
Click to enlarge and to compare new "tween" Dora The Explorer to her original self. [AP]
We already suspected that the Disney factory manufactures tween starlets like plastic widgets, but we had no idea that production has gone into super overdrive since the Miley Cyrus/ Vanity Fair "nude" debacle. The Wall Street Journal reports that "Talent development has taken on new urgency since April, when Vanity…
A lot of work goes into creating a non-white television character! Creating everyone's favorite little Spanish-speaking explorer, Dora, took a year of planning with research, consulting and rounds of screenings with "tough" preschoolers. Not only that, the non-Latino creators have to be careful not to, you know, make…