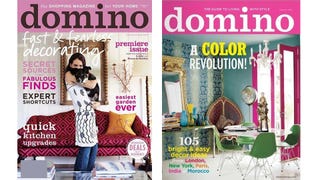 If you were one of the people who shed a shimmery Hollywood Regency tear when Domino folded in 2009, come on, get happy: A special "Quick Fixes" edition of Domino will show up on newsstands in April.
Gisele Bündchen's rep says the art dealer she was photographed getting cozy with is just a close, personal man-friend. [DigitalSpy]
Bündchen celebrated 15 years of modeling by pulling another version of her favorite cover pose for Brazilian Vogue. [MadeinBrazil]
Christy Turlington says, "There's nothing rewarding about modeling. It was a fun opportunity that allowed me to see the world but spiritually and intellectually there is nothing rewarding about the profession at all."
Decor blog Elements Of Style has declared Canadian House & Home "the official Domino replacement." The rub? In the U.S., you'll pay $5.95 an issue. Still, the interior photography looks way more fun than dry old Architectural Digest, which is what I've been getting. [Elements Of Style]
Domino, pitched to Condé Nast in 2004 by then House & Garden editor Deborah Needleman, was shut down last week, and, according to the Times, a lot of people are sad.
It used to be that giveaways gave away something tempting, like, oh a MILLION dollars. This month however, Conde Nast's Domino, the catalogue for insanely priced items for your home, came up with the brilliant idea of offering "The Botox Cosmetic Ultimate Girlfriend's Weekend Getaway." The offer includes a trip to…