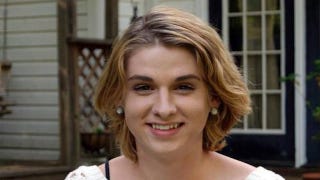 A South Carolina teen who filed a lawsuit against the South Carolina DMV after being denied the ability to wear makeup in her license photo has successfully settled out of court, and in effect, has paved the way for other trans individuals in the state to do the same if they choose, reports NPR.
Chase Culpepper, a 16-year-old resident of South Carolina, was allegedly told by the DMV that he had to remove his makeup to take a driver's license photo. Because, according to a DMV employee, Chase (who considers himself "gender non-conforming" and reportedly prefers male pronouns) didn't look "like a boy should."
After Amber Yust, a transgender woman, changed her name on her license, a DMV employee sent her a letter saying, "The homosexual act is an abomination that leads to hell." The employee has resigned, and won't receive benefits or unemployment.
New Jersey's the latest state to adopt "Choose Life" license plates, after years of litigation. A group called the Children First Foundation sponsored the plates, as they've done elsewhere. Really—those scribble-face kids are the best choose-lifers can do?